Part of the magazine page of the definitive Jowett Jupiter website
The Jowett Jupiter Magazine section up to 2005
For more recent happenings, click here
Some pages on this site

Australian JCC website

https://jowett.org.au




On the internet since 1996

...some happenings in the world of the Jowett Jupiter...



The late Summer (early Autumn?) 2005 Cornish weekend. The Jowett Jupiters visit to the Eden Project has now come and gone.
Here are some pictures - top left shows the Farina-bodied Jowett Jupiter of Pat Lockyer:-
Above: John and Susan Powter get well-deserved Korner Trophy - seated on the left, Edmund Nankivell

Above: John Blaze, left. Tony Mumby, right.

Above: Ghislaine Nankivell and Jonathan Root

Above and right some of the Lockyer family at

the St Austell Garden of Eden
---
Jupiter car seen near Croydon, South of London, for the first time in 40 years when it had been laid up under sheets. It has now changed hands and is to be restored - when time permits as one says.
On Sunday 25 August 2004 Pat Lockyer took his well-restored Farina-bodied Jupiter to Lyme Regis to the RNLI day, the Milestone Car Club had a display of cars on the prom, Jaguars Mercs etc. Pat's trophy was for the most desirable car, the Farina Jupiter.
We always knew it would create interest and it certainly does.
This is the trophy Pat Lockyer was awarded for his Farina Jupiter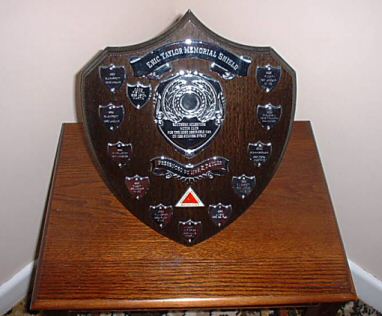 ---
Recent photographs taken in 2004 - see below.
Top left, Roy Watling-Greenwood, who in 1953 superbly built single-handedly the special bodied Jupiter originally registerd so known as GAP 6 - an almost exact replica of standard Mk1 Jupiter. The remaining 5 photos were taken at the recent Ardingly Festival of Transport.
Centre left: Mrs Joyce Swayne, widow of the man who bought a Jupiter in 1953 when it was 6 months old. The family still have the car!
See further below for pictures of the unsheeting of this car.
The standard Jupiter shown immediately below is owned by John Hodgekinson, who is also responsible for the oil cooler installation top right.
The two bottom photos show a folk-dance troupe performing a Yorkshire clog dance, and a Trinidad-style pan band.
---
There is a report with pictures on this website for 2004 big JCC Jowett car rally in York, 4-6 June 2004.
Below is a picture from Keith Clements of Sweden's British Car Event at the beginning of June 2004: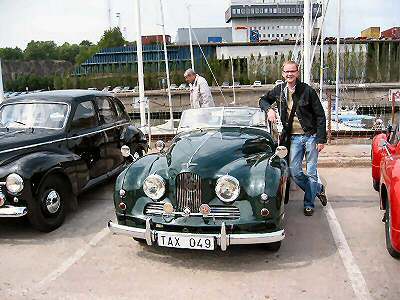 Above: the Jupiter of Peter Hewitt of Dals Rostock, Sweden. Ian Glass writes that four Jowetts were there, three from Scandinavia and the Jupiter of Keith Clements from the UK - well done Keith! And thanks for the photos!
---
Jowett wedding of the year: Pat Lockyers daughter Sarah on Saturday 22 May 2004 to lucky man Shane.

The knot has been tied !!

Yes it is Pat Lockyer's LHD prototype Jupiter
First Sunday in May 2005, Black Lion Patcham, veteran Commercial Vehicle Run (HSCC) from London to Brighton, three Jupiters were in evidence. Red saloon Jupiter excellently re-sprayed by Howard Simmons at his workshop 10 miles north of Brighton, Sussex (tel: 01444-254 575).
---
The Spring 2004 Classic Car show at Bristol (UK) featured Pat Lockyer's Farina Jupiter on the Jowett stand.
As you can see it attracted a lot of interest...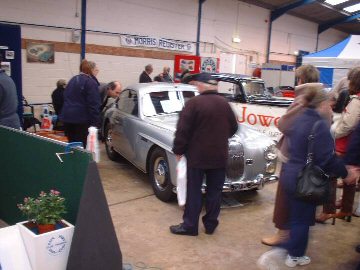 ---
Below:= the Jupiter Owners Auto Club AGM 28 March 2004
Right-top-facing camera, centre: Steve Keil
Bottom left and right: Saloon Jupiter of Alan Beeden with Alan Beeden (left) and Craig Ainge (right)
Yorkshire's Ilkley Jubilee Rally for classic cars was on Sunday 4 April 2004. It was the usual format 150-mile road rally with regularities and special tests at various venues.
Mike Smailes drove his Red Peril rallying Jupiter. He reports "Had another good day rallying and despite the mixed weather the car went well.
Mike Smailes finished seventh overall at second in class, just pipped by last year's winners, the TR3 of John Ball.
---
Sunday 11 April 2004 Flying Day at Henstridge (at the Henstridge airfield near Wincanton, Somerset)) with Tony Young's SC Jupiter while John Blaze studies it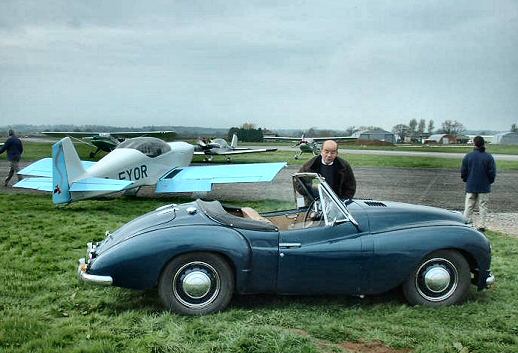 ---
Below: Jowett Car Cluc Southern Section nosh-up mid March 2004. Javelin of Brian Gordon and the Edmund Nankivell FHC Jupiter
---
More on the Netherland Tulip Rally 11 to 17 May 2003 for Classic cars, which featured John Blanckley's rally Javelin driven by Hugo van Zuylen van Nijeveldt (who had the outright winner in the 1953 Tulip Rally in his own Javelin). Navigator in the 2003 event was Keith Clements.
Left: At the start. Above: John Blanckley's rally Javelin is well equipped!!

Above: After the night stop at Riquewihr, at the Hotel le Schoenenbourg.

Left: Hugo waves. This is at St Jean d'Arvey

Left: Col du Granier. Above: somewhere on the route!
It was not a spectacularly good result for the Javelin's crew. Hugo won the award for being the oldest driver to finish - seen here with Vincent van 't Schip who was the youngest.

The Javelin was placed 132 out of 138 finishers in the Sporting Class.
The team was placed fourth out of four in the E1 sub-class.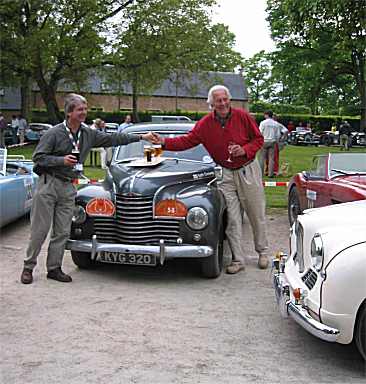 ---
Below are four pictures of the Jaak Jacobs recent restoration. Almost all his own work, from a dreadful wreck of a car a beautiful Jupiter has risen again
(it is now on the road). Scroll about half-way down to see some earlier pictures of the same machine.
---
Here are two photographs sent by Jon Downing.

They are of some of the Jowett Jupiters that made it to Newport for the big Jowett Car Club Rally over the 2003 bank holiday in May.

It's good to see some of the Jupiters that later went to France on the 2003 JUPITOUR!
---