Summary of the production history of the...

Jowett Jupiter Sports Car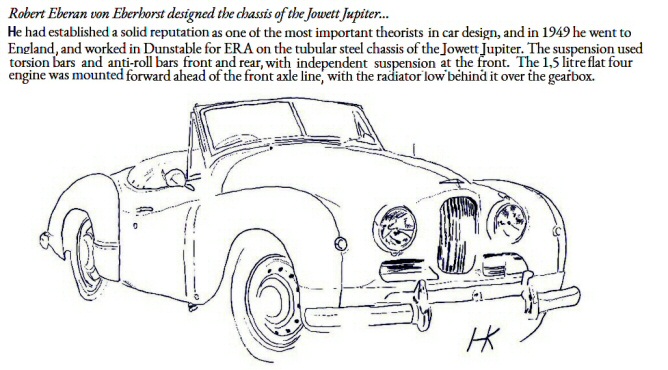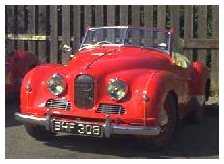 The Jowett Cars Ltd Factory was in the neighbourhood of Bradford, England, called Idle, 4 miles from Bradford town centre. Jowett had manufactured light cars and commercial vehicles from 1906 to 1954 when the Company was wound up without going bust - all shareholders were paid off correctly.
The Jowett Jupiter sports cars were built from 1950 to 1954 all of which were powered by a Jowett-designed 1486cc flat four pushrod engine of 60-62BHP in standard form. The chassis was a light-weight steel alloy that does not rust. Most Jupiters constructed were the aluminium-bodied Mk1 (733) and the Mk1a (94). A further 74 fully equipped Jupiter rolling chassis were sold to specialist coachbuilders like Stabilimenti Farina, Gebruder Beutler, Ghia Suisse, Richard Mead, Abbott of Farnham, to name but five. Also, the Factory built three sports-racing R1-type Jupiters for the Le Mans 24-hour races of 1951 and 1952 to capitalise on the standard Jupiter's class win at that race in 1950. During 1953 three R4-type Jupiters were designed and built on a quite different chassis intended to take Jowett into the mid nineteen-fifties and beyond. Bodywork was to be in a plastic-resin laminate - an all-new product.
The Jupiter car did not disgrace itself in national and international competition - rallies and races - during its production life and beyond. Historic races, rallies and concours d'elegances continue to provide happy hunting grounds for Jowett Jupiters.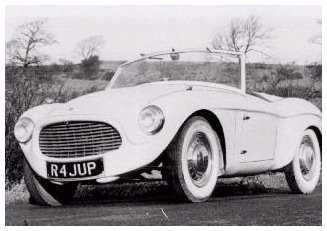 Left: One of the the plastic laminate R4 Jupiters - photo 1953
Three R4 Jupiters were made, of which the first had a steel body, the other two plastic laminate bodies
which was a very advanced car-body material for 1953, in fact an all-new idea then. Now, of course, widely used.
The R4 Jupiter attracted a lot of attention at the 1953 London Motor Show where it was the cheapest 100mph car exhibited.
This Jupiter R4 still looks good and runs well today.

The Jowett Factory closed before the R4 could be raced by the Jowett Works, but one example had three good seasons 1954-1957 in private hands.
On several occasions it was timed lapping the Silverstone Club Circuit faster than any 1500cc MGA.

---
Most of the coachbuilt Jupiters are pretty. A few others not so, some might say. Here are two successful designs:-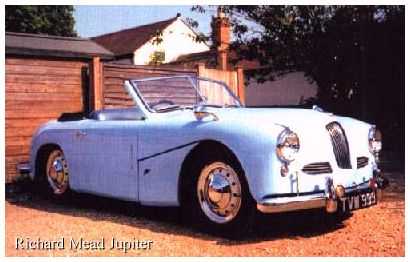 Left - one of the six Richard Mead Jupiters that were were built.

Four survive in good order (one in New Zealand), a fifth has disappeared, but it may survive somewhere.
The sixth - after long outside storage - had its much-decayed bodywork destroyed
but its rolling chassis survives and will one-day get new bodywork

This example was restored to a very high standard and accordingly runms very well.

A nice feature of the Richard Mead Jupiters is their bonnets - they lift usefully a lot higher than the bonnet of statndard Jupiters







---
Left

- Two Stabilimenti Farina saloon-Jupiters:-
Both are alive and well and take their owners to events here and there

The maroon example was Marcel Becquart's Monte Carlo Rally entrant of 1952 and 1953.

With it he achieved the highest place (fifth) for any Jowett in the General Classification of the Monte:


For more on the Italy-built Farina Jupiters click here.
Canada's Bill Vance has this to say about the Jowett Jupiter car in North America
---
||Jupiter (cars!) photos||Jupiter Specification||Buy the Jupiter Book||
||Magazine Page||Magazine Overflow||Main Index Page||Famous Jupiter Owners||
||Book List||Competition History||Production History||Jowett Genealogy||Farina Jupiters||
||A handbuilt car||Jowett Clubs||Le Mans Jupitour 2000||Blois Jupitour 2003||Jupitour 2006||Jupitour 2007||
||Quirky Jupiter photos||A Jupiter travels to Hyeres||