Jowett Jupiter sports cars owned by famous people

who are famous for other reasons than Jowett Jupiter ownership
---
Red Skelton
The death in 1997 of USA Radio and TV entertainer Red Skelton (right) was a reminder

that some famous people who were at one time or another Jupiter owners.

Even though only 900 Jupiters were built, more than a handful were owned by men known to a wider circle than just their family and work colleagues. All these men are famous for reasons other than having been Jupiter owners.

The three most famous ex-owners must be John Surtees, Peter Ustinov, and Red Skelton plus friends. There are several others including Peter Craven the speedway ace, John Willment (who with John Wyer was one of the two JW's of JW Automotive) and Don Cockell the Light-heavyweight boxing champion - see below.
---
John Surtees
It was Mike Hawthorne who talked motor-cyclist John Surtees in to switching to car racing with the unanswerable argument "Why don't you try cars? They stand up easier!".
It is not just that he is the only person to have been world champion on two wheels as well as four - the seven motorcycle world championships of John Surtees occurred at a time when motorcycling was far more popular - and our heroes who raced them were so much better known - than today. In nineteen-fifties Britain there were one million motorcyclists and only four million cars. Most of the latter were driven by ex two-wheelers. Bob Foster (who rallied a Javelin), Geoff Duke, John Surtees, Mike Hailwood, Phil Read, Barry Sheene - they were household names for us all, much more so than the racing car drivers. And the camaraderie! If you broke down (as sometimes happened - they were British bikes we rode after all) the next bike would always stop. Read on to find out about another famous motorcyclist who owned a Jupiter around the same time.
Born into a motorcycling background - his father was an amateur racer - Surtees began racing on two wheels in 1951. From 1956-1960 John Surtees was the outstanding rider of the day, taking his seven World Championship titles on 350cc and 500cc machines. In 1960 he raced a Ken Tyrrell Cooper car at Goodwood - and won. John made his Grand Prix debut in 1960 for Team Lotus, and in 1964 he won the Formula 1 World Championship driving for Ferrari. In total John Surtees drove in 111 Grands Prix, scoring a total of six wins, eight pole positions and eleven fastest laps.
John Surtees in motor-cycle leathers, taken around the time he was a Jupiter owner.

He remembered the car with great affection.

A saloon-bodied Jupiter entered his collection for a while - see below.
The first car of John Surtees (after taking his driving test in his mother's Morris Minor which ran out of petrol during the test) came about as follows "When I was travelling backwards and forwards to Stevenage [serving his apprenticeship at Vincent-HRD] one particularly foul day I stopped at a garage in Hatfield and saw this lovely gold Jupiter in a showroom and couldn't resist it. My father arranged the Hire Purchase deal. It was a super little car...I didn't modify the Jupiter in anyway because I was too busy, working a full day at Stevenage and having to get home to prepare my bikes in the evenings. But it gave me excellent service, and was under-rated by many people. My memories are of superb performance and roadholding, which gave me trouble-free running". He replaced it with a Porsche 356 which John recalled, was the first car that he 'lost' on a bend.
John Surtees - his first four-wheeler was a bronze standard Jupiter. In his 1963 book Speed - The John Surtees Story, he writes of his time as an apprentice at HRD. During that time he rode several 2-wheelers including his mother's BSA Bantam! A spell of bad weather persuaded him to look for something more comfortable, and out of the prize money he was then earning he bought his first car: "Quite a nice semi-sports on which I'd had my eye for some time" as he described his Jupiter. He used it to carry motorcycle parts, and to visit London's theatre-land for such shows as Can Can - in time the Jupiter was inevitably replaced by a Porsche 356. The Jupiter's chassis and a few other bits survive.

For our younger readers, John Surtees is the only man to have been world champion on two wheels and four. Born in Tatsfield, Surrey, Surtees won seven world titles in motorcycle racing, winning the 350cc championship from 1958 to 1960, and the 500cc title four times, in 1956 and 1958, 1959 and 1960. Surtees then switched to cars full time in 1960 making his Formula 1 debut with Lotus in the Monaco GP that year. He then moved to Ferrari and won the world F1 title for them in 1964.

In 1990 John Surtees added a special bodied Jupiter (by Coachcraft of Egham) to his collection of two and four-wheelers, and here are scanned in a couple of pictures of this handsome vehicle for your delight. They were taken during the nineteen-sixties but it looks much the same today although it has had its original registration mark restored to it. Alas John has other fish to fry and he did not get it running again. Eventually it was sold to a French collector who had a total rebuild carried out on it by a British Classic car specialist

Peter Ustinov owned a special-bodied Jupiter in the ninteen-fifties, and it accompanied him to California for a couple of years. This Jupiter is in good order although stored for a while - its current owner is famed Jupiter-man Dennis Sparrow. (Dennis also owns a standard Jupiter, a 1938 Jowett van, and co-owns the surviving R1 Le Mans Jupiter (class 1 winner Le Mans 1952) and a Jowett vintage car of 1927 manufacture.

Red Skelton known as the Clown Forever came to England in 1951 and bought no less than four Jupiters - all RHD bought directly from the Jowett factory. They were for himself, Gene Fowler, David Rose, and Bo Christian Roos. They probably didn't use them much! British-born composer David Rose came to Hollywood in the early war years, contributing scores to such films as Winged Victory (1944) and Jupiters Darling (1954), one of several MGMs musicals for which he composed the music, but this film is not about motor cars. He worked extensively as an orchestra leader on radio, and in this capacity began a long and lucrative association with Red Skelton with whom Rose stayed until Skelton's final TV program in 1971. Skelton's theme song, Holiday For Strings, was written by David Rose, as were the leitmotifs of Skelton's many characters (The David Rose clip-clop theme for Freddy the Freeloader was titled Lovable Clown). Another sterling contribution to television history was The david Rose evocative theme music for Bonanza. David Rose may also be remembered for being the first of the five husbands of Judy Garland. Red Skelton used his Jupiter for about four years. The Skelton and Fowler Jupiters survive in California and restoration of both is completed.









Gerald Lascelles driving his Radford bodied Jupiter in the 1952 Relay Race at Silverstone




Dennis Sparrow's ex Peter Ustinov special-bodied Jupiter

at a Jowett Car Club rally back in the nineteen-seventies
Other Jupiter-owning notables include W Tee, proprietor of the respected British magazine Motor Sport, who owned first a Mk1 and later a Mk1a. These cars were occasionally mentioned in the magazine by the editor Bill Boddy, a regular and appreciative driver of the Jupiters, in the early fifties. The Scottish accordionist-band-leader, Sir Jimmy Shand, a household name in the 1950s and 1960s (who died 23 December 2000 aged 92) owned a Jupiter (which still exists) in the mid-to-late fifties during the height of his fame, and the late Queen's cousin Gerald Lascelles owned, raced, and honeymooned in a special-bodied Jupiter which also still exists and which is under restoration as you read this. Lascelles, besides having been the grandson of King George V on his mother's side and therefore close to England, also wrote for the English magazine Jazz Journal, and was from 1964 to 1971 the president of the BRDC (British Racing Drivers' Club); as such he oversaw the expansion of Silverstone from just one of several British circuits to become the leading track and home of the British Grand Prix. Finally the explorer-cum exploration travel-agent and author Colonel John Blashford-Snell owned a standard green Jupiter he called the Green Goddess - see his book "Where the Trowell Ends". All these Jupiters even the Green Goddess survive.
Remember JW Automotive? It was formed by John Willment and John Wyer to take over the premises and activities of Ford Advanced Vehicles, Slough, England in 1967, where they also produced the last Shelby Cobra (the Lone Star). John Wyer had been the competitions manager at Aston Martin for many years, while John Willment ran a racing car development shop called Willment Racing, being heavily involved with preparing Brabhams in the mid 60s, as well as GT40s. The two JWs combined and gave the GT40 Mk IV another two outright wins at Le Mans, in 1968 and 1969, before switching to the Gulf Porsche. John Willment was the first owner-driver of Edmund Nankivell's saloon-bodied Jupiter, built in the Italian style, see below:
The Willment Jupiter is seen here in Bradford in the mid-nineteen-nineties.

How much use did John Willment have of this Jupiter in three years? Enough to break its crank - say 15,000 to 25,000 miles. But it was never raced.

The name Jowett is still often found in Yorkshire today: This shop was selling hardware, paraffin, and fancy goods as well as being a heating specialist.
The very first owner of the Willment Jupiter, but not its first driver, was Philip Fotheringham-Parker. It was built for him to drive it in the 1953 Monte Carlo Rally, but it was not finished in time. Phillip was a well-known motor-sportsman of the nineteen-thirties, forties, and fifties. He once drove a works Alvis Silver Eagle over the banking at Brooklands, and survived!

Boxer Don Cockell owned a Jupiter in 1952, although which one, and for how long, is not known to us. A blacksmith by trade, Don Cockell began boxing in 1946. He was invincible in the Light-heavyweight category and became the British and Commonwealth champion at that weight. he then began challenging heavyweights being successful in Europe but not in the US where his brave 1955 fight against Rocky Marciano was stopped in the 9th. He had 81 fights in his career, winning 66 of them

General Sir Mike Jackson GCB CBE DSO ADC owned Jupiter OPX 495 when he was stationed in Northern Ireland in the early 1970s, having bought it on 29/8/1969 when he was aged aged 24. In Kosovo he apparently earned the nickname Macho Jacko and is credited with disobeying an order from Supreme NATO Commander Gen Wesley Clark, saying I wont start World War III for you ! - but that is another story. He rose to be the very top man in the British Army before retiring in August 2006. Our man crashed his Jupiter in 1973 and it was an insurance write-off, but it was rescued from the TT Garage, Farnham, to pass through the hands of several restorers. These days it is a very smart running Jupiter in its peacock blue livery.

Colin Chapman - he of Lotus cars fame - is reliably reported to have owned a Jupiter in his bachelor days, so would have been during the early 1950s. A woman said that when she was young, she was asked by the mother of her best friend to chaperone her best friend by sitting between the said friend and Colin Chapman in Colin's Jupiter. Anyone know more?

Motor-cycling Speedway-man Peter Craven owned a Jupiter in the mid nineteen fifties. It still exists in good order. a very tidy running car. A bit of a show-off some said; he used to drive the Jupiter to meetings with his motor-bike attached to the back of the Jupiter! He rode for the Manchester club Belle Vue: twice world speedway champion (1955 and 1962) and as a natural-born speedway ace, Peter Craven, after three brilliant wins at Meadowbank in 1963, crashed heavily in the fourth race trying to avoid a fallen rider and was tragically killed at the height of his powers. Peter Craven is still remembered by speedway fans. An example from 'A4lawnlady' recalling Peter's first ride as little lad at Belle Vue Stadium. "I can remember him holding on to the bike for grim death. He was so tiny his feet didn't reach the ground and it was feat of balance. My Dad always claimed that Peter told him he rode around until he ran out of fuel, because he had not worked out how to stop the bike without falling off."
The Craven Shield is a Speedway Cup competition governed by the Speedway Control Board and British Speedway Promoters' Association. Founded in 1997, it is of course named in memory of Peter Craven.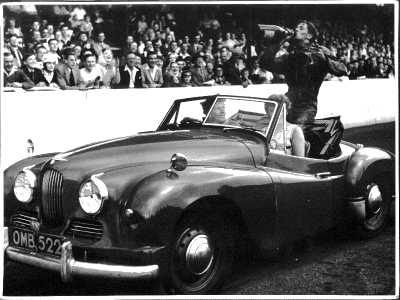 Above: Peter Craven at Belle Vue driving his Jupiter, with fiancee and Ron Johnson, also of Belle Vue
Below: Peter Craven (on the right, in blazer) with his brother Brian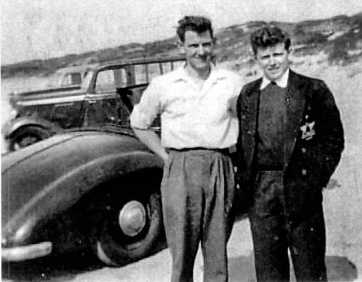 Speedway teams in the UK at least as of 2022 were still competing for the Craven Shield, named after our man Peter Craven of course.
The rules are complicated. The teams finishing 1st to 4th in the League Championship are seeded directly to the Semi-Finals, with the remaining teams being divided into two groups of three. Each team races every every other team in their group once at home and once away, making a total of four matches. Points are awarded in the same manner as for the League Championship, with total accumulated points determining the final group placings. The top team in each group qualifies for the Semi-Finals.
The Semi-Finals are held as three-team tournaments, with each team staging a leg on their own track and aggregate scores deciding the final placings. The winner of each group plus the best runner-up progresses to the Final which is staged in the same fashion. Where teams are tied on aggregate for first place, each team nominates a rider for a runoff.

Ernest Dudley pen-name of Vivian Ernest Coltman-Allen the prolific writer of detective novels, once well-known as the 'Armchair detective'. He was an occasional film maker and briefly an associate of Fred Astaire. He was the first owner of a special bodied Jupiter. Although born in 1908, Ernest Dudley was still active almost to his death in 2006 appearing at book fairs and the like; his books are being reprinted by the Wildside Press. A photo of the ex-Ernest Dudley car, which is still around and often appears at meetings, see below: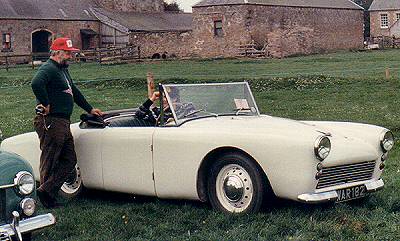 The ex-Ernest Dudley Jupiter, with body built by Harold Radford (Coachbuilders) Ltd, seen here with Bill Lock,
at the Melrose Jowett Car Club meeting in 1990.
---
Budge Rogers OBE - Bedford and England Rugby Football player (world record holder of 34 England Rugby Caps), owned and drove his Jupiter HKY 770 from 1960 to 1964. Born 20 June 1939 in Bedford, his club Bedford recovered after the Second World War and continued to play all the leading clubs and had a great spell in the mid ninteen-sixties. There were three Bedford players regularly in the England team with David Perry and Budge Rogers captaining their county. In 1969-70 season Bedford won the Sunday Telegraph English-Welsh Rugby Table. Probably, the Blues finest hour was in 1975 when Bedford, captained by Budge Rogers beat Rosslyn Park in the final of the Knock Out Cup (now Tetley Bitter Cup) at Twickenham 28-12. There was a gate of nearly 18,000 which at the time was a record attendance.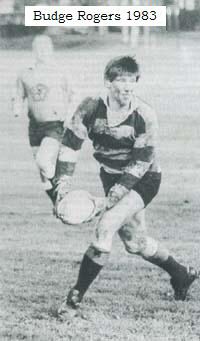 Budge Rogers later played for the Barbarians. He managed the England under 23s to Canada in 1977. The Ugby Football Union (RFU) organised an England tour to the Far East and England,
led by Budge Rogers, played two tests in Japan and two tests in Colombo. In the mid 1980s he was chairman of the England selectors. In 2000 he was managing the England team.
In 2001 he was the RFU President and then on the board of Trustees of the Lord's Taverners. D P (Budge) Rogers, OBE is the holder of the England record of 34 caps,
British Lion and Barbarian many times over, captain of England on several occasions and the first English player to be honoured by the Queen for his services to football.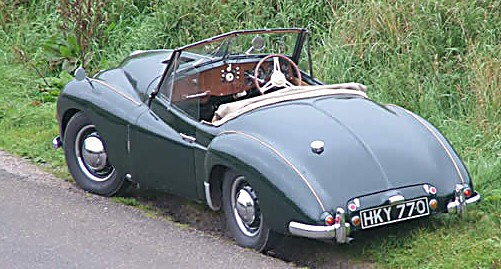 The ex-Budge Rogers Jupiter HKY 770 has been thoroughly and sensitively restored, as the above photo attests !
---
Joe Kelly has some considerable fame as a more than competent Irish Grand Prix racing-car driver.
Joe Kelly also was the secondowner of a Jupiter which still exists restored and running.
He is known to have raced this Jupiter at Goodwood, Boreham, and Isle of Man plus events in Ireland:- a race at Curragh and hillclimb at Wicklow
Here below he is racing his Alta in the 1950 British Grand Prix at Silverstone (the very first World Championship F1 race); he is following Geoffrey Crossley also in an Alta.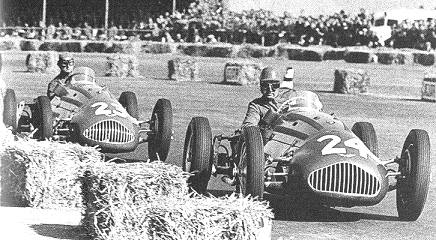 ...and here below is Joe Kelly racing his Jupiter at Boreham in June 1952 - photo taken by Guy Griffiths: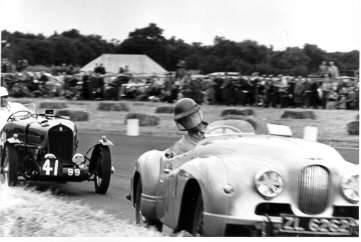 ---
Peter Owen-Smith writes from South Africa: "I was reading your section on famous Jupiter owners. South African cricket captain of the 1960s era, Peter van der Merwe, owned a red Jupiter when he was still playing in Groot Drakenstein (near Stellenbosch in the Cape).
This was long before he even played provincial cricket, never mind internationals. I thought you might be interested".
Robbie Mackenzie-Low, sometime racing driver, owned and competed in a Jupiter four times, before moving on to Cooper and then Elva. It is HKW 429, and Robbie raced twice at Goodwood and drove it in two club rallies. The Robbie Mackenzie-Low Jupiter still exists. It - from 2018 - fully restored and running in Yorkshire.
---
It was Sir William Lithgow who was the first owner of a Jupiter - from 1952 to 1955. He had it registered HS1 becaise he had owned an Hispano-Suiza registered HS1. William Lithgow was a shipbuilder by trade, an engineer and technologist by inclination. He was chairman of Lithgows, which was once the largest privately owned shipbuilding business in the world. Merged in 1969 to form Scott Lithgow, the firm was nationalised in the late 1970s, and Sir William retreated to the family estate at Ormsary, in Argyll. Sir WJ Lithgow's address in the Factory Records, Gleddoch House at Langbank, is now a 75-bed 4-star hotel set in the original 360 acres. His father, the more famous Sir James Lithgow, died 6 months before the Jupiter arrived, allowing the son to take up his father's knighthood as well as inheriting the chairmanship of the family firm.
The Jupiter is a well-restored running car now JHS 365
Here is a true tale very likeable about Sir James Lithgow:
George MacLeod was a World War I decorated hero whose experience had turned him against war. In Spring 1938, he was struggling to establish the Iona Community as a venture of Christian outreach in Scotland. He had no money. He tells the story best:-
I wrote to the richest man I knew. He replied, recommending a good psychiatrist. Then I wrote to the second richest man I knew, but he hasn't replied yet; and as that was fifty years ago I don't suppose he will now. Then I wrote to Sir James Lithgow [a shipbuilding magnate]. He invited me to his home. That surprised me because we were not very close: he was building battleships and I was already a pacifist. Before I left, he asked, 'If I give you 5000 pounds, will you give up your pacifism?' 'Not on your life,' I replied. Then he said, 'Then I will give you 5000 pounds.'
In 1943, with World War II raging, anonymous donors (later revealed as Sir James and Lady Lithgow), committed 20,000 GB pounds Sterling a year for seven years to the Iona Community.
---
Philip Marlowe
The fictional detective Philip Marlowe in the Raymond Chandler book The Long Goodbye commented:-
We went to Victors. He drove me in a rust colored Jupiter-Jowett with a flimsy canvas rain top under which there was only just room for the two of us. It had pale leather upholstery and what looked like silver fittings. I'm not too fussy about cars, but the damn thing did make my mouth water a little. He said it would do sixty-five in second. It had a squatty little gear shift that barely came up to his knees. Thanks to Bruce H. Smith for sending this to me.
It could be that Raymond Chandler had read of the Jupiter R4 and was trying to explain to Jowett what WOULD sell un the US market...
---
In late October 2000 Paul Fessenden sent this message about Ross Thomas:-
"I read a book that mentioned a Jowett-Jupiter and searched the web to satisfy my curiosity. The book was a novel called "Voodoo, Ltd." by Ross Thomas (quite likely). Paul wrote that he had searched through a half dozen books on airplanes so may have the wrong book but he is about 90% certain.
It was a quick mention. Someone was waiting for an appointment to arrive and was musing that they would probably show up in a stretch limo, a Mercedes 500, or maybe a Jowett-Jupiter. This was to give the impression that this person for whom they were waiting was wealthy and showy".
---
||Jupiter (cars!) photos||Jupiter Specification||Buy the Jupiter Book||Buy Crowood's Javelin/Jupiter Book||
||Magazine Page||Magazine Overflow||Main Index Page||Famous Jupiter Owners||
||Book List||Competition History||Production History||Jowett Genealogy||The Farina Jupiters||
||A handbuilt car||Jowett Clubs||Le Mans Jupitour 2000||Blois Jupitour 2003||Jupitour 2006||Jupitour 2007||
|||Quirky Jupiter photos||A Jupiter travels to Hyeres||