The Farina-bodied Jowett Jupiters
There were four Jowett Jupiters with bodywork constructed by Stabilimenti Farina of via Tortona, Turin. Here is some news of them.
NB: Stabilimenti Farina was closely related to Pininfarina during the 1950s.
Experts in 1950s Italian coachbuilding, please have a look at the question at the bottom of this page!!
Scroll to the near the end for some non-Jowett Stabilimenti Farina cars of the same period
Photos above - seminal Pininfarina design on Lancia Aprilia, early post WW2
---
The four Farina Jupiters were built on standard fully-equipped Jupiter rolling chassis.
The chassis were delivered from the works to Italy as follows:
chassis number
chassis delivery

completion date of car

Farina body

number

present location
E0 SA 7R
August 1950
6 October 1950 - on show at the Paris Salon
9409
UK
E0 SA 33R
17 Nov 1950
probably ready for the road by mid 1951
9517
USA
E1 SA 59R
16 March 1951
Ready at least by October 1951
NZ
E1 SA 109R
6 July 1951
October 1951 - on show at the Paris Salon
9682
UK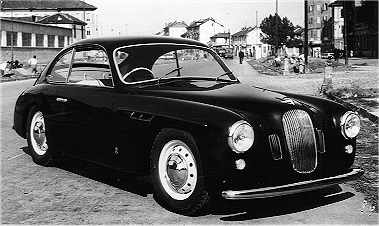 ABOVE: Farina Jupiter E0 SA 7R outside the Stabilimenti Farina works in Italy before delivery to Paris for the exhibition there.
| | |
| --- | --- |
| | |
| Two photos of Farina Jupiter E0 SA 7R taken 1st October 1951 at the Jowett Factory. Standard Jupiter instruments are installed on a painted panel. | Farina Jupiter engine bay. Typical early Jupiter engine with iron water transfers, long oil filler tube, labyrinth oil radiator in front of the water radiator, and air intakes behind that component. |
BELOW: The same car after a five-year sojourn in Malaya (1953-1958) and a longer sojourn in New Zealand, showing Jaguar grille. These photos were taken in the 1980s in NZ, but the car, now back in the UK, probably looks fairly similar at the moment. We now have most of the history of this car before it went to Singapore and what happened when it got there!
| | |
| --- | --- |
| | |
| Two drawings of Farina Jupiter E0 SA 7R produced by Malcolm Bergin in 1971 for the New Zealand Jupiter Register -his Register was the very first publication of any kind devoted to the Jupiter. It was much more than a register with interesting artwork and historical texts. | The above drawing shows just how much the interior of the Farina Jupiter was modified, even having a non Jowett gearbox and shift. It now has a non-Jowett steering column gear change |
Here shown below are some photos of Farina Jupiter E0 SA 33R, resident in California now but found by Ted Miller in Chicago in 1988. An advert spotted by Ted (in an old Road and Track magazine) and successfully followed up, declared somewhat optimistically "1951 Ferrari - may be custom bodied Jowett. Excellent Farina alum. body.
Running Ford V8. Interior and brakes need work...".
ABOVE PHOTO GROUP: Top row, Farina Jupiter E0 SA 7R as found in Chicago. Bottom right photo shows greatly modified engine bay: far left - a bit of the engine.
Far right (at front of car) is the radiator. The engine intrudes into the car's interior.
Below, as recovered from Chicago to California in 1989
| | |
| --- | --- |
| | |
| Marcel Becquart with his Farina Jupiter E1 SA 59R some time after its return from the coachworks for a few modifications, believed to include the bonnet nostril to assist cooling. | The same car 45 years later in New Zealand. Still very original including the A-post-mounted fog/spot lamp. |
BELOW: some photos of Farina E1 SA 109R being personally restored by Pat Lockyer:-
The Farina JupiterE1 SA 109R as found in1999, in the village of Lux in southern France. Hence its soubriquet "Farina de Lux". It had, however, probably spent most if not all of its working life in the Paris area. Its now peeling 1951 Paris Salon colour (Dove Grey) hid a dark blue which still survives in the interior.

It had not moved under its own power for many a long year and the engine had seized solid through rust and a leaking gasket. Gearbox was in a bit of a mess too!

Pat Lockyer bought it. On its way to Britain behind Pat Lockyer's trusty camper, the tarpaulin successfully ensuring no unwanted attention.
The Jupiter had lost its "carte grise" and could only have been put back on the road on a "Carte Grise de Collection". This means that it could normally only be used in France by a French owner for special club-organised tours.

Probably the worst section of rust found on the basically sound car. Fortunately Pat Lockyer is a pretty darned good welder.

This too-clever-by-half jacking system had been added at some time in the car's working life. Sadly, as can be seen, it only lifts one wheel!

Interior of the car as bought. Fortunately the condition did not put off the intrepid Pat Lockyer.

See further below for the steering wheel as restored by John Blazé.

The windscreen is a replacement made from thick plastic sheet. It was translucent rather than transparent - another task for Pat to deal with, and not an easy task did it turn out to be. Again see below for Pat sorting out this particular problem.
| | |
| --- | --- |
| | |
| here, the Farina E1 SA 109R restoration by Pat Lockyer proceeding well. The fixed part of the body is made from 42 pieces butt-welded together. This number does not include doors, bonnet, boot or sun-roof. | At this stage Pat Lockyer still needed a windscreen, since the existing one is a sheet of plastic (not original) that had gone cloudy. |
---
Don't the side badges, above, and grille (all restored by John Blaze) look gorgeous?

At this stage the Farina Jup is nearly ready except that Pat has yet to solve the problem of getting a new windscreen for it.
Farina Jupiter E1 SA 109R getting close to the re-finishing :-
| | |
| --- | --- |
| | Body in high-build primer. Setting-off is slow on the leaded parts, but the Autumn sun may do the trick. |
| | |
| --- | --- |
| | Farina E1 SA 109R steering wheel accurately restored by John Blaze. Horn push, of course, is anachronistic (it was true to Jowetts from 1953) but nice. |
Correct curved Farina Jupiter windscreens being moulded somewhere in Kent.
Pat Locker is believed to be the mysterious figure on the extreme right.

Pat used the old plastic screen as a pattern.

Pat Locker with three of the finished farina windscreens; enough were made for all four Farina Jupiters.
| | | |
| --- | --- | --- |
| | | |
| Rusty door - shows original blue | New floor as original | Beautiful welds by Farina craftsman |
| | | |
| --- | --- | --- |
| | | |
| Bonnet nearing readiness. The air-scoop still needs work | the bonnet scoop, surprisingly, is mounted almost directly over the radiator. | Air-scoop done. It seems to feed air behind the radiator and over the battery. |
Farina Jupiter returned home
Here is Simon Wood making sketches of important details of Farina Jupiter E1 SA 109R for his Farina Jupiter (E0 SA 7R) restoration.

Simon is a stickler for originality, more so than most!

Other images on this page show how much Simon Wood's Farina
Jupiter (E0 SA 7R) had been modified over the decades of its usage.

Pat Locker at work on his Farina (E1 SA 109R), literally putting on a finishing touch prior to its respray. This would be very early in 2003 when the completed car took to the road again
| | |
| --- | --- |
| | |
| Farina Jupiter E1 SA 109R is getting its top coat of paint, courtesy Pat Lockyer, the car's owner-restorer. | Mid to late January 2003 - Getting there...but lots of rubbing down still to do! |
---
| | | |
| --- | --- | --- |
| | | |
| Spraying in progress, using metallic silver, not dissimilar to the Dove Grey... | ...which was colour the car was wearing for its appearance the 1951 Paris Salon. | All these pictures were taken during the latter half of January 2003. |
---
| | | |
| --- | --- | --- |
| | | |
| 29 Jan 2003: flatted, polished, lacquered... | ...and all accessories attached. | Glasses still to fit, then the upholstery! |
---
| | | |
| --- | --- | --- |
| | | |
| 29 January 2003: front... | ...and rear screens fitted. MoT soon, then the question of getting a registration mark. | Rear flasher and trafficator in action |
And now (26 February 2003), Farina Jupiter E1 SA 109R has passed its MoT, has passed preliminary road-testing, and is awaiting its journey to the trim shop: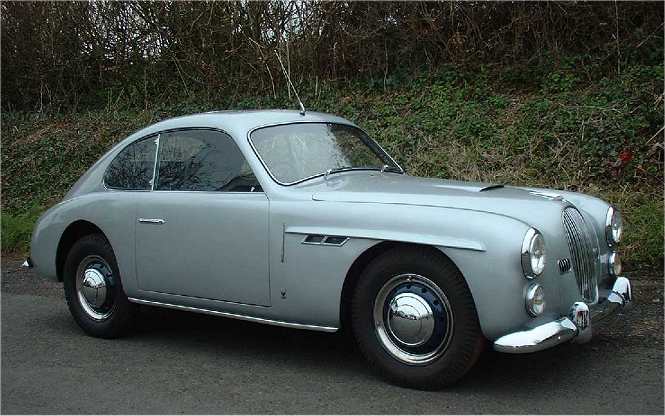 The dash is now as it once was, and as it should be.
Fifty-two years have been rolled back by sympathetic restoration: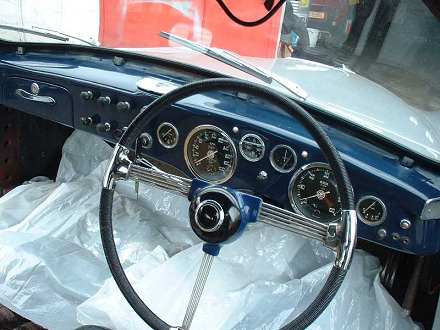 Farina Jupiter E1 SA 109R engine bay, March 2003. Runs cool,

oil pressure good, no oil leaks

Farina 109 is now (end March 2003) registered for the road, and attracting attention wherever it goes
---
| | | |
| --- | --- | --- |
| | | |
| High standard re-trim in progress, doesn't the door trim look gorgeous? | Headlining going in - trimmer enjoys a cuppa during the work | Map netting under the roof, plus new leather boot panel. |
| | | |
| --- | --- | --- |
| | | |
| Mid may 2003 - the trimming... | ...is complete and ready for the JCC Newport gathering! | On its way . It was driven from the campsite. Unsurprisingly it won an award. |
Under-dash hand throttle being developed, for easy long-distance touring: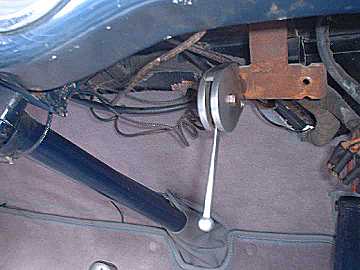 ---
Aleksandar Vidojkovic, of Knjazevac, Yugoslavia, sent photo (left) with this E-mail:-

"I have 1949 Fiat 1100B cabriolet Stabilimenti Farina, aluminium body, Chassis No. 319237".

This is how Aleksandar's car once looked, and will again no doubt!
---
| | |
| --- | --- |
| | |
| Stabilimenti Farina Cisitalia 202 by Vignali | Stabilimenti Farina Lancia Aurelia |
---
Italian car experts who have got this far, here is a poser for you! Look at the two pictures below and e-mail the answer to the question - which Italian car of about 1950-1951 is this special-bodied Jupiter based on? Could it be the Fiat 8V Zagato?
---
||Jupiter (cars!) photos||Jupiter Specification||Buy the Jupiter Book||Buy Crowood's Javelin/Jupiter Book||
||Magazine Page||Magazine Overflow||Main Index Page||Famous Jupiter Owners||
||Book List||Competition History||Production History||Jowett Genealogy||The Farina Jupiters||
|A handbuilt car||Jowett Clubs||Le Mans Jupitour 2000||Blois Jupitour 2003||Jupitour 2006||Jupitour 2007||
||Quirky Jupiter photos||A Jupiter travels to Hyeres||