The Jupiter Summer Tour 2006 - Lorraine - Black Forest - Alsace
The Jupiter summer tour 2006 was from July 20th where we met at our hotel just south of Laon We returned home on Saturday July 29th
Although rain was possible, and there was some - the hot sunny weather did last!
Last update 28 March 2008
Here we all are!!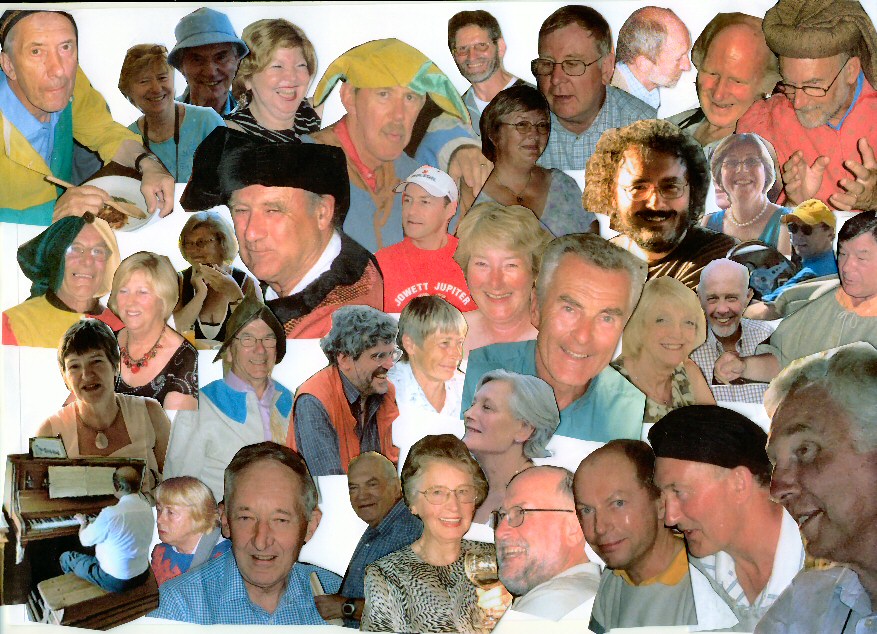 Now start here:--
Below, top row L to R: July 19, the Jupiter of Derek Chambers (from Sarasota in Florida by way of Southampton) passes through Keymer on its way to Folkestone. By the tour's end this Jupiter covered 1500 miles Southampton to Southampton with no serious problems.
July 20 Jupiters arrive at Chamouille for the first night stop. Our Repas d'Ouvert at Chamouille, notice Dennis Sparrow and Simon Wood.
| | | |
| --- | --- | --- |
| | | |
| | | |
Above L to R: July 21. Jupiters packing up at Chamouille for the journey to Verdun, in considerable heat, 30+. At our hotel the Coq Hardi in Verdun. Coach trip to see the Franco-German 90th anniversary evocation of the battle of Verdun, Light and Flames show - again Simon Wood and Dennis Sparrow; there were 32 others on the tour!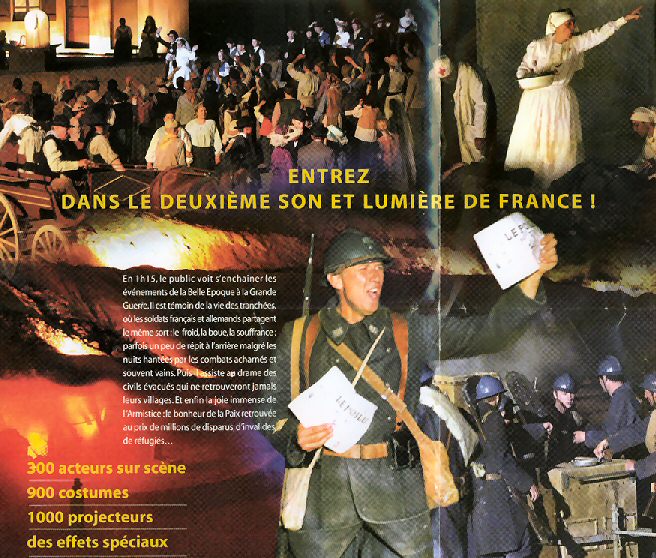 Below L to R: July 22. On the way to Titisee in the Black Forest. Buddhist monk from Nepal in Titisee with Ghislaine and Edmund Nankivell. The well-restored Jupiter of Heinz Bolliger driven down from Switzerland (150km) to join is for the evening.
| | | |
| --- | --- | --- |
| | | |
| | | |
Above L to R July 22-23: Titisee. Omeira Graham and Mike Chevers. View from our bedroom windows. Lesley and David Stimpson (left) chatting to Susan Sharrock and Bill Ebzery from Australia (right). Howard and Andrew Chambers jogged around the lake in 32 minutes, but normally it would be a 90-minute walk. Due to the altitude it was a little cooler than Verdun, but still hot and sunny.
Below L to R: Still in Titisee. Detail of the rare early Bolliger Jupiter, elegant formed-in rear light. Heinz Bolliger sets off. Jenny and Dave Kennedy on a Titisee steamer. (Other trips Jupitourists took were the free train ride (courtesy our hotel) to Freiburg, scenic run to the most visited clock museum in Germany, at Furtwangen 20 miles from our hotel, and the trip John Blazé and Chris Freudenberg took to the Albert Schweitzer museum in Gunsbach, a village in the Munster valley, where Schweitzer's father Louis served the protestant parish for 50 years. Here they saw the piano that Schweitzer had used and had actually been made for him by the Bach Society to be suitable for the tropics (screwed not glued, zinc lined, with organ pedal board! Just one example of the many options available to all on this Jupitour).
| | | |
| --- | --- | --- |
| | | |
| | | |
Above July 24th: leaving Titisee for Obernai in Alsace. Lunch stop at Sankt Roman in the Black Forest. L to R Derek and Iris Chambers. The restaurant Adler in Sankt Roman where we stopped for lunch. Ready to depart for Obernai: the Nankivell's Jupiter with deer just perceptible in the background.
NB Some took the option to travel from Titisee to Obernai via the National Car Museum at Mulhouse.
Below left: Obernai, Hotel Cour d'Alsace: L to R Dave Kennedy, Alfred Keller, Ed Nankivell. Jupiter of Alfred Keller with bonnet raised, AK had driven 300km from Gams in Switzerland to be with us at Obernai; Dave Kennedy and John Blazé on the left. Howard Chambers (yellow cap), Iris and Derek Chambers, with Ghislaine Nankivell and Andrew Chambers in Obernai, Alsace.
| | | |
| --- | --- | --- |
| | | |
| | | |
July 25th above Left: Alsacien folk dancing at Colmar, where we went by coach via the very scenic Wine Route. Ken Graham talks to Tom Chapman, and Ghislaine talks to Mouleman (Tim Wise). Simon Wood, Dennis Sparrow and others take refreshment in Obernai during the folk-dance session. In the morning we had explored the outer reaches of Obernai and its nearby vineyards via an exciting treasure-hunt on foot - all in searing 40deg+ heat!
July 26th, some took the special coach laid on to take Jupitourists to the National Car Museum and the National Railway Museum both at Mulhouse. Others explored Obernai and/or enjoyed the hotel's excellent facilities.
July 27th below left and centre, Jupiters ready to leave the Cour d'Alsace for Sedan (yes the blue car is a DB4 and nothing to do with us! Right, Jupiters begin to arrive at the Hostellerie le Château Fort at Sedan having survived the 35+ heat. Here we welcomed Jaak Jacobs and Claude and Francine Bernard from Belgium, and Bas en Gerda de Bruijn from Holland. Claude and Francine are the world's most recent Jupiter owners (1 month!). The de Bruijn and Jacobs Jupiters are on the left of the photo, right.
July 27th above L to R: Jupitourists take a medieval meal at Europe's larges medieval castle. Medieval music-making. Jupiters at Sedan which was followed by a flaming torchlight tour of the castle with English-speaking guide. On the right, Sedan before departure to Ligny for our farewell meal and last night stop.
Above: our gifted organiser Ghislaine Nankivell in medieval garb. Left: Dave Stimpson. Right Bill Ebzery
Below left: July 27th some Jupitourists stopped at an amazing fortified village (the Citadelle of Montmédy) on the way to Sedan, and walked the ramparts.
Below centre: July 28th Jupitourists preparing to leave Sedan for Ligny. Some visited the Henri Matisse Museum on the way. Others took the scenic route through part of Belgium and the beautifully scenic Château Regnault.
Below right: July 28th Jupitourists tuck into an excellent meal at Ligny-en-Cambrésis. the venue and food were high class even by French standards, and exactly right for the final night stop.
Above July 29th Our last night stop, some architect was given a totally free hand it seems! L to R: Our marvellous hotel at Ligny. The underground car-park. Ed Nankivell's saloon Jupiter at Ligny. It had been another hot hot hot day!
Below July 29th. Time for speeches at our farewell dinner. Left: L to R Tom Chapman, Ken Graham, Omeira Graham, Tony Mumby, Dave Stimpson (standing), Howard Chambers (far right). Centre: Howard Bryan very competently was MC for the evening and spoke well. BI. The organiser Ghislaine Nankivell speaks.
| | | |
| --- | --- | --- |
| | | |
| | | |
Above July 30th. L to R Iris and Derek Chambers take breakfast at Ligny. Jupiters of Ed & Ghislaine Nankivell, Ed's FHC driven by Dennis Sparrow (standing) and the Chambers's Jupiter from Florida on the way to Coquelles. Passport control at Coquelles, the Chambers's Jupiter at Coquelles passport control.
Below July 30th. Left - in the shuttle. Right - both Nankivell Jupiters back home safe and sound.
---
Six more images from the Jupitour of 2006
Below Left to Right: (1) Ed Nankivell, Chris Freudenberg, with Werner Imhof and Heinz Bolliger at Titisee. (2) Lesley and Dave Stimpson talking to Bill Ebzery and Sue Sharrock. (3) medieval meal at Sedan - we are dressed for the occasion.
Above Left to Right: (1) Jaak Jacobs and Ed Nankivell at Sedan. (2) Ghislaine Nankivell, Gerda and Bas de Bruijn. (3) Angela and Tony Mumby, Linda and Nigel Woodford. Below: Titisee again, Chris Freudenberg (right) with his cousin and his cousin Herbert Booth's beautifully cared-for Citroën DS. Herbert is a native if Freiburg.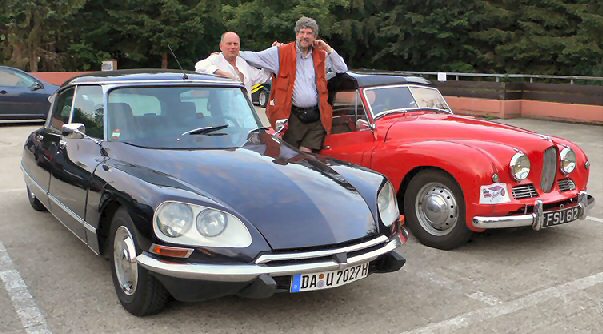 Below is the unedited information set up before departure. It is being updated with what REALLY happened from time to time as the time needed becomes available. Yes we all got back OK and any problems with our Jupiters were minor ones and easily solved. Over 1,200 miles was covered.
---
The tour is essentially for Jupiter sports cars. Our hotels were all 3-star or 4-star. It began at a good hotel just south of Laon, and ended at an equally superb hotel at Ligny-en-Cambrésis. Quiet, luxurious, spacious, excellent classic French cuisine and wines, we all toured between these hotels to Lorraine, the Black Forest and Alsace. On our return, if we so chose we could have passed through Luxemburg and Belgium making this a four-country international Jupitour! Classic cuisine and classic wines for owners of classic cars!
Our Jupitour was designed to be of general interest, not car-car-car like most classic car tours. There were car-type things, though, for those who wanted them. We thought it important that 'both sides' of a couple could enjoy what we do and where we go. Of course it is a Jupiter tour, not a classic car tour as such, and a chance for Jupiter owners to meet other owners in depth.
Lorraine – Black Forest – Alsace – Ardennes Jupitour July 2006
DATES: 20 – 28 July 2006.
ITINERARY – Summary of the tour.
Thursday 20th we all meet near Laon in Northern France for the evening meal and night stop. A lakeside hotel less than three hours from the main channel ports. Evening meal there and we meet our friends for the tour!
Friday 21st we drive to Verdun in Lorraine (just over 100 miles - some may wish to take a peek at the old Reims road circuit where its grandstands and other buildings can be viewed in their decaying splendour) for bistro lunch at our hotel, the best in Verdun. At 2:00pm our coach collects us for the visit of the citadelle and battlefield, returning us by 6:00pm for our gastronomic dinner at about 7:30. In the evening our coach again collects us and takes us a short distance to see a light show (Son et Lumière with 600 actors both French and German) retracing the conflict, performed by French and German actors. Jupitourists not interested in the activities at Verdun can instead visit Reims with its champagne cellars, ancient cathedral, basilica, and its car museum:-

So, a champagne cellar could be visited should you wish to miss the activities at Verdun! Early risers can make a brief diversion to the old road-racing circuit outside Reims where the disused grandstands, pits, and other structures can be viewed in their decaying splendour.
Photo: we stay in the best hotel in Verdun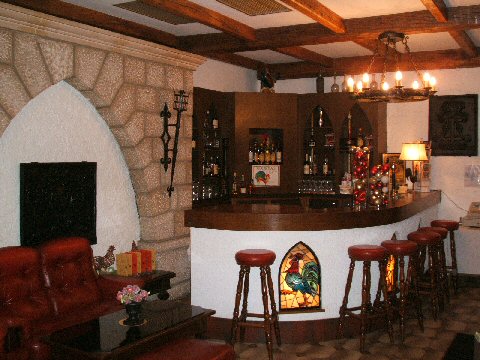 Saturday 22nd after a lie-in we set off for our hotel at Lake Titisee in Germany's Black Forest where we will spend two nights. We arrive some time in the afternoon and have the rest of the day free, with our evening meal (a genuine Black Forest Buffet) planned for about 7:30pm.
Sunday 23rd scenic drive north to Triberg, (pronounced "Tree-berg") famous for its waterfall, hurdy-gurdy collection, house of a 1000 clocks and the world's largest hand-carved cuckoo-clock. NB The Cuckoo Clock was invented in 1737 in nearby Schoenwald. (Or - stay in Titisee all day, because Titisee-Neustadt is a very nice place just to be in, you can walk around the lake, go boating, no need to drive today). There is a splendid clock museum 20 miles north of Titisee, Germany's most-visited clock museum, at Furtwangen, the Deutches Uhrenmuseum.
Other possibilities include a boat-trip on the lake and a free return train ticket to Freiburg, which has a wonderful old town centre.
Above: Period Schwartzwald clockmaker sets out to sell his latest masterpiece...
Below: hard to escape clocks in the Schwartzwald!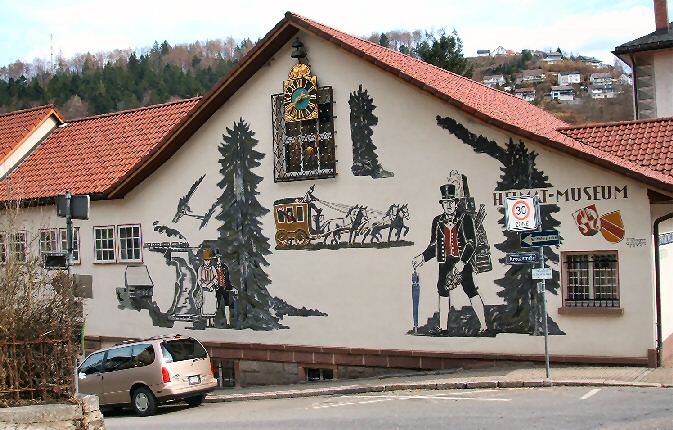 Above left: Our Black Forest town. Above right: Artisanale chocolatière at Alsace Ecomusée
We are back at Titisee late afternoon with some free time to explore the town and lake. In the evening we again eat at our hotel in a group meal. Here we will meet meet Heinz Bolliger and will admire his self-restored Jupiter chassis 116.
| | |
| --- | --- |
| | left: Obernai, Alsace. above: a Black Forest village |
Monday 24th We travel over the border to Alsace in France. But most of us will probably lunch at Sankt Roman at a restaurant up a 5km winding almost alpine and devastatingly scenic road, before crossing the border.
Some of us may go via Mulhouse to the excellent, famous national car museum and railway museum,, whilst others may wish to go directly to our hotel in Obernai (a distance of 75 miles) perhaps via part of the highly scenic Route des Vins. Obernai is a very nice town just to be in. Group meal in the evening. The stork is of course the emblem of Alsace, and it is enjoying something of a comeback, as are Alsatian speciality beers..
Translation - not easy! If you can do better, e-mail Edmund!

Remember - beer is feminine in French!!

Preliminaries: Cherish her firmness, make her foam with pleasure

During the performance: taste sensually and make the performance last.

Afterwards: If she asks for more, make her foam again with pleasure, but please with moderation!
Tuesday 25th/ Wednesday 26th Another two days of options which could include Mulhouse, Colmar town, and the Colmar eco-museum and its potassium mine - potassium mining was once a big employer in the area. Another possibility is a guided visit of Obernai in the morning and a drive to the scenic viewpoint of Mount St Odile on the Route des Vins in the afternoon. A coach trip to Colmar has been organised, so no need to drive today.
Thursday 27th We depart shortly after breakfast and head north-west to Sedan in order to arrive mid-afternoon with a chance to see something of the town. We can drive via Luxembourg and Belgium the to Ardennes for an overnight stop at a remarkable, very special hotel just opened. On the way, a rather unusual museum in Belgium devoted to beer delivery lorries can be visited (this could happen only in Belgium!), also the road racing circuit at Chimay could be driven round.
As an alternatively we can visit the world's largest beer museum, and visit a totally unspoiled hill fort. At Sedan we expect to be joined for the last two days and nights by Bas & Gerda de Bruyn and their Jupiter.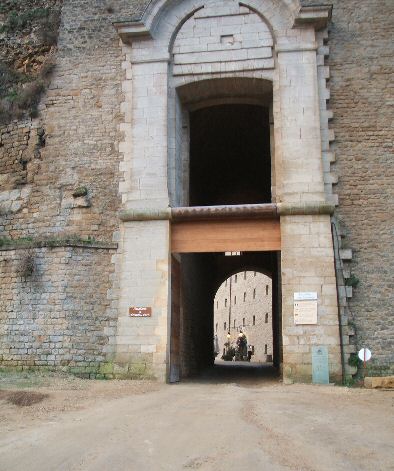 Special evening meal at the the very special hotel (above).
Friday 28th, we drive to Ligny (not to Arras as previously arranged) and our a farewell dinner. Nearby is the Musée Matisse. This is the only gallery collection selected by Matisse himself - and the only museum dedicated to any artist where they conceived the presentation of their own works.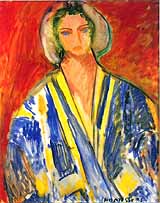 The collection is housed in an old 18th century building, which has now been imaginatively extended. The collection has been enhanced by further additions by the Matisse family, and by later purchases. It also includes work by two other modern artists: August Herbin (1882-1960) who worked in Le Cateau; and his pupil, Geneviève Claisse.
The impressionist painter Henri Matisse (1869-1954) was born in Le Cateau-Cambresis, but spent most of his adult life in Paris and Nice. Le Cateau-Cambresis is but 15km from our destination of Ligny and on the way from Sedan.
Saturday 29th, we return home by our separate ways. Ligny is 99 miles from the shuttle terminal at Coquelles, 106 and 140 miles respectively from the ferry terminals of Zeebrugge and Dieppe.
MILEAGE. The start-point is conveniently situated about 150 easy miles from Dieppe, Calais, Dunkerque and Zeebrugge, not more than, say, 3 hours at Jupiter touring speeds. The round-trip distance from Calais to Calais has been recalculated to be less than 1000 miles excluding excursions. The longest distance in a day is under 200 miles (dependent upon route), some days much less.
HOTELS. We will be staying in good quality comfortable hotels, all 3-star or 4-star, where we already have placed options, typically for half-board accommodation for one day at each stop, that means six evening meals out of the nine. We will all be together in the same hotels, with private parking.
All those seeking clarification and further amplification of the Jupitour should telephone or E-mail Edmund Nankivell
Telephone: 01273-843457
Or, e-mail with your comments
---
Here are some other pages:
Jupitour 2003

The Le Mans Jupitour 2000 page.

A Jupiter from England visits Hyères

Jupiters from England visit Denmark

Magazine overflow page.

The Jupiter a hand-built car through and through

Jupiter booklist
---
||Jupiter (cars!) photos||Jupiter Specification||Buy the Jupiter Book||Buy Crowood's Javelin/Jupiter Book||
||Magazine Page||Magazine start to 2003||Magazine 2003 to 2005||Magazine 2005 to 2008||Main Index Page||Famous Jupiter Owners||
||Book List||Competition History||Production History||Jowett Genealogy||The Farina Jupiters||
||Spares and Services||A handbuilt car||Jowett Clubs||Le Mans Jupitour 2000||Blois Jupitour 2003||Jupitour 2006||Jupitour 2007||
||Interesting Jupiter links||Quirky Jupiter photos||A Jupiter travels to Hyères||