OUT NOW!
the Number One - Top - bestseller - in its field
Written and published by the established Jowett historian and author Edmund Nankivell (Penmellyn Publications) in 2011
But you don't have to be a Jowett owner past or present to enjoy this book from cover to cover

This hardback book - the un-put-downable:-
Jowett Jupiter Special Body - From Abbott & Beutler to Rochdale & Worblaufen
This book is NOT solely on the special-bodied Jowett Jupiter. It also covers the coachbuilders themselves in detail, and looks at what other cars they were famous for. Valuable original research is found within its pages

Special-bodied Jupiters were raced and rallied and played their part in making motoring (not just Jowett) history.
Chapter Six deals with specials-builders like Maurice Gomm and John Willment and others who, involved in special-bodied Jupiters, also helped restart motor racing after the end of WW2
A reader writes: Hello Ed, Book has arrived THANKS it is magnificent!! A virtuoso performance indeed.
Another reader wrote: This book is a wonderful addition to my library – an obvious labour of love. Thanks for your dedication to recording automotive history!
And "This book is for anybody with an interest in classic cars, not just Jowett... I have read my copy twice and still pick it up!"

There is a superb review in The Automobile <<click to view, of February 2012.
Now available worlwide from Chater's and at Amazon.co.uk
Michael Ware writes (full review see below) This is the type of book I really enjoy...a real labour of love and very readable too
You want to buy one? Go to www.amazon.co.uk and type <Nankivell Jowett> in the search box

Also available from Chaters on line, go to their website and put <Nankivell> in the "Authors Name" box, then click <search>

And a reader writes: "I bought this book NOT because of a particular interest in Jowetts BUT because it provides a lot of unusual information on specialist British car body builders, information which is otherwise sparse. BUT reading it I was convinced of the value of Jowett and this book is a tribute to the research and information accumulated by the author over the years. I found it fascinating. Well done indeed!"
i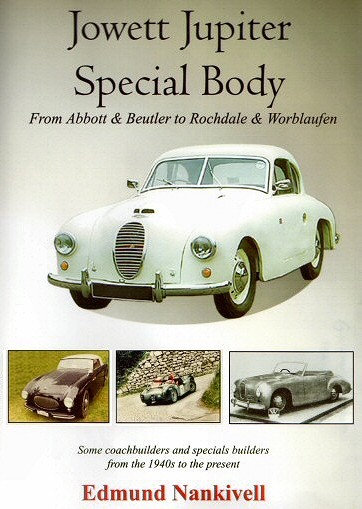 Publisher: Edmund Nankivell, Penmellyn Publications, 6 Kymer Gardens, Hassocks, BN6 8QZ, UK
ISBN 9 780954 114411
Within the book's 205 pages are 11 chapters, 446 monochrome and 14 colour illustrations.
Over 60 coachbuilders and specials builders are covered in greater or lesser detail, from nine countries including Switzerland, Italy, Sweden, France and Australia and of course the UK
40 years of research has gone into this book, with much original general historical information
Michael Ware writes:-
This is the type of book I really enjoy, it has taken 40 years of research to gather the information together. It is first and foremost about those Jowett Jupiters that left the Bradford factory in chassis form and were sent out to be bodied by specialist coachbuilders. Many of these were small firms who did not have a high output and who have been often been overlooked by collectors and historians. The book contains as much background as the author has been able to find out on each of the 67 Jupiters bodied in this way. Where there is a competition history, that is given. Other history comes in the form of known owners and other items of interest. For example the Ghia Suise Jupiter which was for some time in the collection of that eccentric Michael Dovaz

(full history in "The Fate of the Sleeping Beauties" published by Veloce) who exhibited it in unrestored condition, in his museum depicting barn-find cars cars. Where the fate of a car is known, that has been researched.
I am sure the author did not set out to write a book about little known, mainly British, coachbuilders, but that is what he has achieved. He has given the history of the firms that bodied these cars, in many cases the first time such details have been published. He often goes into detail on some of the other cars (or commercial vehicles or in one case a Flying Flea aircraft) for which these companies had built the coachwork.
In this reviewers opinion one of the most attractive Jupiter bodies was designed by Frank Grounds Ltd of Birmingham (established in 1894) for his own use and that of his wife Lola. Registered LOL1 . It was built for rallying, and conformed to the Monte Carlo Rally rules on special bodied 4 seat saloon coachwork for 1953, the year in which it competed in the event. The crew were Frank Grounds, Ken Rawlings and Jack Hay. The car came up for auction in 1990 and then again in 2000 "Restoration has continued in fits and starts". It is surprising how many of the cars in this book are extant, but in many cases have been in one ownership being under restoration for a very long time! A real labour of love and very readable too.
Another reviewer writes:-
It would be easy to think that this book would only interest those with a liking for the Jupiter. WRONG! This book is for anybody with an interest in Classic Cars, not just Jowett...Edmund has ceratinly done his research...I found it absolutely fascinating reading about the origins of each company and how they came to be involved with this rather intriguing new sports car chassis from Jowett.
I have read my copy from cover to cover twice, and can still pick it up and enjoy it.
And yet another reviewer wrote:-
"...comprehensive account of Jupiter development, well written...well-written stories on every chassis built...masses of pictures and details...interest is added by including pictures of similar work by the builders...Ed weaves all this together in way that makes it hard to put the book down...a fascinating and a good read..."
i

Classic Car magazine (October 2012) said "Self-publishing comes in to its own with books like this. Jowett enthusiast Edmund Nankivell's fifth work focuses on the rare coachbuilt specials based on [the Eberhorst] sporting chassis...a remarkable if individualistic book"

How to buy? UK price £25.00; or still (as of May 2012 postal price rises) £29.95 with Pack & Post with payment by cheque made out to E Nankivell. UK price with payment by Paypal is £30.75
Mainland Europe, £32.00 including Packing and Airmail postage; £33.50 with Paypal payment
North America by airmail, payment by Paypal, I ship at GB£42.50
Elsewhere by application.
Cheques on UK banks accepted, or a Paypal invoice can be generated with a small surcharge to cover Paypal charges
Please contact if you are interested in purchasing this book by Edmund Nankivell.
Or visit these websites:
Bookbase - or Ebay of course, search for Jowett Jupiter, - or Chaters and search under 'Jowett Jupiter'

For your very own special bodied Jupiter car (1:43 scale!) click here
---
Also written and published by Edmund Nankivell earlier,
the book entitled The Jowett Jupiter, a Car for Road, Rally and Race
is the only book solely about the Jowett Jupiter
80 pages. 66 monochrome and 7 colour illustrations. Foreword by Gordon Wilkins.
Publisher: Penmellyn Publications, ISBN 0-9541144-0-X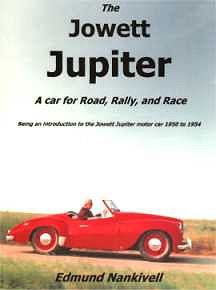 Affordable!! Readable!! UK Sterling price now reduced to only £5.00 including UK postage
from direct! Eurozone - 6 Euros including postage
(other currencies by request)
Also available from this eBay shop
Packed with new information and pictures, with a new look at the factors that brought down Jowett
The eye-catching Jowett Jupiter burst onto the motoring scene in 1950 and was an instant success in national and international competition. It was Jowett's last, most expensive and fastest model, and the book relates in an entertaining, readable and informative way its remarkable sporting and other achievements and history from 50 years ago up to today.
The book has a foreword by Gordon Wilkins who has been a motoring journalist for more years than he would like to be reminded of (including writing for both British magazines Motor and The Autocar) and who has taken part in the Le Mans 24-Hour race and the Monte Carlo Rally many times.
An unsolicited testimonial from a total stranger reads:-
"I am writing to say how much I enjoyed the book - its freshness, crisp and humourous prose, the anecdotes, good illustrations, the format and not least the excellent proof-reading". Thanks, Michael Walsh.
Classic and Sports Car says: "All aspects of this individualistic 1950s sports car are covered...slim but comprehensive history...special coachwork, film appearances and a wealth of intriguing facts...an accessible and fun production...".
As Malcolm Thorne (Reference Librarian, National Motor Museum at the UK's Beaulieu), said to me "it makes a very welcome change from the usual titles on MG, Triumph and Jaguar".
An easy on-line way to buy is through Chater's Motoring Booksellers of Chaters motoring Booksellers
10b Doman Road, Camberley, Surrey, GU15 3DF England. Chater's price is now £4.99.
Or, you can order from Chater's by telephone +44 (0)1276 686 639
Or by Fax +44 (0)1276 686 538
You can also purchase it through the website of Motor Books :-
33 St. Martins Court, London WC2N 4AN England.
You can telephone Motor Books on +44 (0)20 7836 5376.
You can buy the book direct from the author by calling 01273-843457. UK price now only £5.00 (sorry no plastic) including post and packing.
Edmund Nankivell's very first book (still an excellent read) is entitled
"The Jowett Jupiter - the Car that Leaped to Fame"
It is available from this Abe Books website
---
||Jupiter (cars!) photos||Jupiter Specification||Buy the Jupiter Book||Buy Crowood's Javelin/Jupiter Book||
||Magazine Page||Magazine Page to 2003||Magazine Page 2003 to 2005||Magazine Page 2005 to 2008||Main Index Page||Famous Jupiter Owners||
||Book List||Competition History||Production History||Jowett Genealogy||
||Spares and Services||A handbuilt car||Jowett Clubs||Le Mans Jupitour 2000||Blois Jupitour 2003||Jupitour 2006||Jupitour 2007||The 2012 JupiJaunt to Northern France||The amazing Jupithon of 2012||
||Interesting Jupiter links||Quirky Jupiter photos||A Jupiter travels to Hyères||
||Guest Book||