Written and published by Edmund Nankivell in 2011, the hardback book
Jowett Jupiter Special Body - From Abbott & Beutler to Rochdale & Worblaufen
is NOT solely on the special-bodied Jowett Jupiter. It also covers the coachbuilders themselves in detail, and looks at what other cars they were famous for.
Special-bodied Jupiters were raced and rallied and played their part in making motoring history.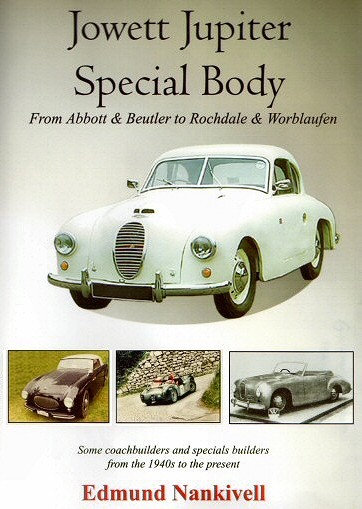 Publisher: Penmellyn Publications, ISBN 0-9541144-1-8
Within the book's 205 pages are 11 chapters, 446 monochrome and 14 colour illustrations.
Over 60 coachbuilders and specials builders are covered in greater or lesser detail, from 9 countries including Switzerland, Italy, Sweden, France and Australia and of course the UK
40 years of research has gone into this book, with much original general historical information
How to buy? Normally available from Chaters - information see below
or contact Edmund Nankivell if you are interested in obtaining this book.
---
Also written and published by Edmund Nankivell earlier,
the book entitled The Jowett Jupiter, a Car for Road, Rally and Race
is the only book solely about the Jowett Jupiter
80 pages. 66 monochrome and 7 colour illustrations. Foreword by Gordon Wilkins.
Publisher: Penmellyn Publications, ISBN 0-9541144-0-X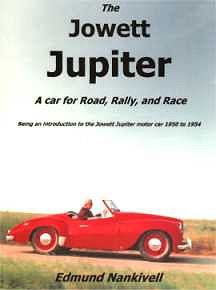 Affordable!! Readable!! UK Sterling price now reduced to only 5 quid including UK postage
from Edmund Nankivell
Packed with new information and pictures, with a new look at the factors that brought down Jowett
The eye-catching Jowett Jupiter burst onto the motoring scene in 1950 and was an instant success in national and international competition. It was Jowett's last, most expensive and fastest model, and the book relates in an entertaining, readable and informative way its remarkable sporting and other achievements and history from 50 years ago up to today.
The book has a foreword by Gordon Wilkins who has been a motoring journalist for more years than he would like to be reminded of (including writing for both British magazines Motor and The Autocar) and who has taken part in the Le Mans 24-Hour race and the Monte Carlo Rally many times.
An unsolicited testimonial from a total stranger reads:-
"I am writing to say how much I enjoyed the book - its freshness, crisp and humourous prose, the anecdotes, good illustrations, the format and not least the excellent proof-reading". Thanks, Michael Walsh.
Classic and Sports Car says: "All aspects of this individualistic 1950s sports car are covered...slim but comprehensive history...special coachwork, film appearances and a wealth of intriguing facts...an accessible and fun production...".
As Malcolm Thorne (Reference Librarian, National Motor Museum at the UK's Beaulieu), said to Edmund Nankivell:--
"it makes a very welcome change from the usual titles on MG, Triumph and Jaguar".
An easy on-line way to buy is through Chater's Motoring Booksellers of Chaters motoring Booksellers
10b Doman Road, Camberley, Surrey, GU15 3DF England. Chater's price is now GB Pounds 4.99.
Or, you can order from Chater's by telephone +44 (0)1276 686 639
Or by Fax +44 (0)1276 686 538
You can buy the book direct from the author by calling 01273-843457. UK price now only five quid (sorry no plastic) including post and packing.
Have a look for many Jowett books at Amazon
Or go to Amazon Books and asearch for "Jowett Jupiter"
---
||Jupiter (cars!) photos||Jupiter Specification||Buy the Jupiter Book||
||Magazine Page||Magazine Overflow||Main Index Page||Famous Jupiter Owners||
||Book List||Competition History||Production History||Jowett Genealogy||
||A handbuilt car||Jowett Clubs||Le Mans Jupitour 2000||Blois Jupitour 2003||Jupitour 2006||Jupitour 2007||