Jupitour 2007
The Jupiters Summer Tour of the year 2007 - from Yorkshire going North to Scotland
The word 'Jupitour' is synonymous with good preparation, good routes, interesting diversions, and above all good fellowship
and so it turned out to be!
The careful and thorough organisation was by Jupiter-folk Howard and Jacqui Bryan
Dates: Tuesday 31 July 2007 (we arrived in York) to Friday 10 August 2007 (we left for home)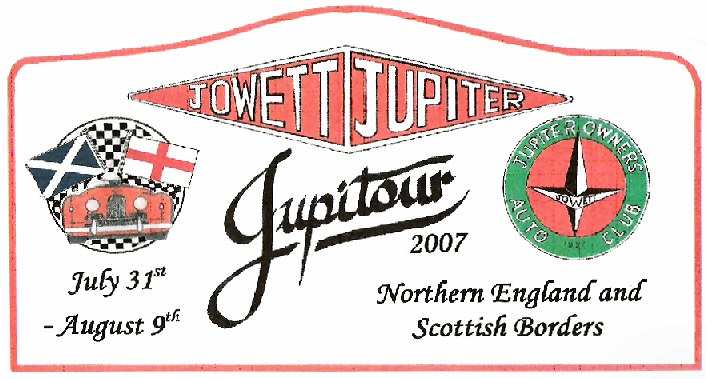 31 July 2007 below left, the Nankivell green Jupiter having just crossed the Humber Bridge. A smidgen of Tony and Angela Mumby's red Jupiter, far left.
Right, York resident Geoff McAuley with his special-bodied Jupiter under construction. Geoff in his smart white Jupiter guided the Mumbys to the group hotel for the next two nights.
Photos below: Alastair Gregg, who was with us for the first day in York only, snapped these two Jupiters on 31 July:-
Left: The Jupiter of Tony Mumby, and right John and Sue Powter in their most-toured-in special bodied Jupiter
Some enjoyed an afternoon river cruise before heading to the City centre and a visiting to the famous York Minster. The first night get-together was at a Chinese restaurant in York (Left and centre). Right, at Howard and Jacqui's place at Askham Bryan
Photos above: far left, Edmund Nankivell and John Blanckley. far right, Anne and Tim Wise. Car in background: AC Greyhound
On arrival at Askam Bryan we were all presented with a jar of local honey! Also two invaluable specially prepared booklets (one the absolutely essential route book designed to ensure that the best scenery and places of interest could be enjoyed) giving intricate details about the tour, all in a most useful Jute "National Trust" bag.
Wednesday 1 August was given over to sight-seeing in York, possibilities being the Jorvik Viking centre and the Railway museum, or just browsing shops and other attractions in the old city. In the evening we were treated to an absolutely gorgeous buffet supper at Howard and Jacqui Bryans place just outside York itself, many thanks to the hard work put in by Jacqui and Anne Wise.
On Thursday we set off for the Derwent Manor Hotel via scenic minor roads as detailed in the very good road book we had been given. Some stoppied at the ruined (by Henry VIII) Fountains Abbey with all stopping at the astonishing Bowes Museum for a tour of the art galleries and lunch. The building had been created in the 19th century along the lines of a French Chateau, with the help of French craftsmen and a French architect.
Photo below left: amazing clockwork wind-up silver swan, which was demonstrated moving gracefully every afternoon. Right: Lunch at Bowes
Photo below left: Bowes museum. Below Right: after much scenic driving and for some visit a to a lead mine, our night stop at the Derwent Manor
| | |
| --- | --- |
| | |
Friday August 3rd was our second driving day with our destination over the border to Gatehouse of Fleet. On the way some of us visited Housesteads, a Roman army barracks (remains of!) at Hadrian's wall, then over the border to Gretna Green where the Blacksmith's forge was used for the marrying of eloping couples as recently as the 1920s, and the Devil's Porridge visit, a museum in memory of the largest munitions factory of the First World War. The Hadrian's Wall visit was a long-standing ambition of mine, and I was not disappointed, it was excellent, well worth the detour as a Michelin guide might have put it.. The Devils Porridge is an amazing exhibition that tells the story of the greatest munitions factory on Earth - in 1915 the British were losing the war through lack of ammunition until 30,000 men and women came from all parts of the country to work at the massive war factory built on the Solway. When Sir Arthur Conan Doyle, creator of Sherlock Holmes, visited it, he described the explosive paste - which was amazingly mixed by hand - as the Devil's Porridge. There was a little rain shower at this point, but nothing much.
Photos below clockwise from top left: Ghislaine Nankivell at Hadrian's wall. Plus a Jovial Craig Ainge at an altar to the god Jupiter. The inscription reads:- Jupiter Best and Greatest - and as Craig says "We all knew this, but I had not realised that the Romans thought so too!"
Facing the camera, from the left, Tim Wise (with Anne Wise) and Howard Bryan. Some Jupiters at the luxurious Cally Palace Hotel, Gatehouse of Fleet.
| | |
| --- | --- |
| | |
| | |
Saturday 4 August 2007 was a free day as we were staying two nights at the most comfortable Cally Pally. There was a croquet lawn, used by Howard Bryan and Angus Bell, a heated indoor swimming pool, Jacuzzi and Spa Pool. Some went as far as the exceptionally scenic Ayrshire coast, or took a boat trip on the estuary, or Logan Botanic Gardens, or trek over to the Mull of Galloway and its lighthouse.
Some did the Raiders Road, forest drive, or stayed put and attended the Gatehouse of Fleet annual parade. There was a Scottish pipe band, a New Orleans marching band, and a string of old tractors including an early Harry Ferguson tractor with his famous three-point lift and a small plough attached, which was demonstrated.
For the sharp-eyed there were red squirrels to be seen in the forest surrounding the hotel.
Above: Pipe band and New Orleans band in the Gatehouse parade heading the tractors, defunct mine found in the wilds on or forest scenic drive, the white Harold Radford Jupiter of Gordon and Wendy Cooper, and the Nankivell standard Jupiter NNK 560, and snooker at the Cally Pally. Some went to to Twynholm and the David Coulthard Museum where the staff came rushing out with cameras when they heard the sound of the flat four engines; we were coming to look at Formula One motor cars and they wanted to see our Jupiters!
Next day, we were off to Peebles for two nights and the Edinburgh visit!
There were some anxious moments for the southerners amongst us when we realised that petrol stations were never to be found on these quiet roads up north, and one had to find them in towns or else! In fact some A-roads were so quiet that the only traffic seemed to be Jupiter traffic!
| | |
| --- | --- |
| | |
| | |
August 5th 2007 was our driving day to Peebles, as usual Howard Bryan had sorted out the most scenic routes imaginable. Roads shown as B on the maps were really no more that single carriageways bordered by rocky crags, or deep ditches, or sheer drops of several hundred feet - quite challenging by any standards - and in the rain quite an experience in a 55-year old motor car. It was a day of almost continuous rain, although not heavy, and as it turned out our only day of real rain. As it was essentially a driving day the rain did not matter much and we could prove to ourselves that our rain equipment and our spirit were up to it, as well as our windscreen wipers! However some of us could not follow the route exactly due to the rain and the need to divert off to find petrol, as well as to call in on some of the tourist possibilities such as the Moffatt woollen mill and the Leadhills light railway. So much to do, so little time! But for the adventurous there was the 1:5 ascent from the Talla reservoir with spectacular views.
Top left, Gordon and Wendy Cooper in the Radford Jupiter set off in the rain from the Cally Pally Hotel. Top right, lunch stop and guided tour at Drumlanrig, built of rich pink sandstone and known locally as the Pink Palace. Bottom left, three Jupiters at the Wanlockhead mining museum, an excellent and most interesting visit - a chilling reminder of how some people lived in the not so distant past. Bottom right, arrival at our hotel in Peebles for the next two nights and the coach trip to Edinburgh. Second car from the left, the AC Greyhound driven by Tim and Anne Wise.
Peebles, 20 miles south of Edinburgh, turned out to be an interesting town in its own right. Not least because we were visited by Jack Kirk with his immaculate self-restored Javelin - he had restored a Jupiter some years ago to the same standard, on both cars doing absolutely every job except the re-chroming. On the right, the red Jupiter of Craig and Glenys Ainge and the white SC Jupiter of David and Jennifer Kennedy.
We spent August 6th in Edinburgh taken there and back by coach. The first visit was to the Royal Yacht Britannia which was, surprisingly to some, extremely interesting. Definitely a recommended visit to anyone in the area. We were handed hand-held language-specific electronic guides which helped enormously as we could re-play bits tat were of special interest. She was built in the Clyde in 1954 and so is a contemporary of the Jupiter, and looked it, in the sense she was very un-modern.
After the Yacht visit, we found our way to the centre of Edinburgh. As the festival was in full swing, some visits were already full and we contented ourselves by exploring, and watching some of the fringe street events which were certainly entertaining and different. Whilst strolling down the Royal Mile we came across a guitarist who had managed to insert himself into a litter bin, from which he managed to play quite competently. There were also some Eastern European dancers in costume, with live musical accompaniment. Some visited Holyrood House, others the Royal Botanical Gardens, trip to Edinburgh Castle and the two hours hardly did the experience full justice, while some saw the Stone of Destiny the Coronation Stone - returned in 1996 to its rightful place - but then all too soon it was back to the hotel to compare notes and eat and drink and be merry! The Scottish parliament building, a very worthwhile visit, provided some views of new architecture amongst the old.
Tuesday 7th August was a driving and touristic visits day. After leaving our hotel, most went to the nearby Traquair House (Scotland's oldest inhabited house) and then on to the abbeys of Melrose and Dryburgh. The high spot of the day, and indeed for me the high spot of the tour, was Lindisfarne / Holy Island; but first we detoured to Hawick (pronounced "Hoik" we were assured) to the Hawick Cashmere mill, which was also a good and interesting visit - this was to replace our missed visit to Moffatt back on Sunday 5th. There we learned that Cashmere is a fine hair which is combed from the underbelly of Capra Hircus goats. These live in huge, wild, nomadic herds in China, Mongolia, Afghanistan and Iran.
We then headed across the border for Holy Island. This island is actually joined to the mainland by a causeway which is underwater at high tide, and a timetable near the start gives the safe times to cross - no doubt the locals have the times in their memories, for there is a village there too. Holy Island's history begins with the arrival by invitation of St Aidan to convert the local population and the building of the first monastery ( made from wood) in 635AD. St Cuthbert was its first abbot. It was sacked by the Vikings in 793, and rebuilt by the Benedictines after the Norman conquest still with the miraculously undecayed body of St Cuthbert we are assured. It was destroyed during the dissolution of the monasteries which reminds us that Henry VIII destroyed far more monasteries and abbeys than ever the Vikings could. It is the ruins of that second monastery that we see today. There is also a gorgeous ancient church that fortunately was open and we could see round it. Fortunately it was a rare church that the Victorians did not modify.
Below: Abbey ruined courtesy King Henry VIII, Lindisfarne Church,
Tony and Elizabeth Day head off, and our hotel for two nights the high class MacDonald Linden Hall Hotel at Longhorsley.
Below, Tim Wise and the AC Greyhound at another part of our hotel, Longhorseley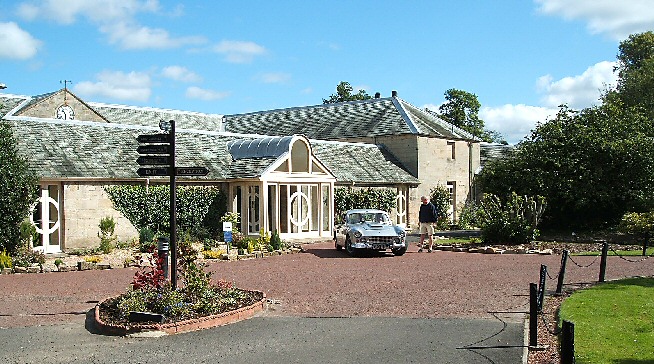 On Wednesday 8th August many Jupiters headed for Alnwick Gardens and Castle which, as Craig Ainge said, the undulating roads afforded some of the most magnificent and dramatic views. Alnwick Castle of Harry Potter fame, was visited by many Jupitourists, the landscape Howard Bryan had directed us through was a contrast of heather-laden moorlands and craggy rock faces; long straight roads punctuated by sudden hairpin bends; level plains and challenging steep inclines; aqueducts, viaducts and the ruins of a monastery - and all this over a seven mile journey. At Alnwick Gardens the display of Jupiters in their reserved area provided an added attraction for day visitors. The Duchess of Northumberland's vision was to create a beautiful public space accessible to everyone. The Alnwick Gardens certainly does that. It is both formal but welcoming.
| | |
| --- | --- |
| | |
A most excellent group lunch had been pre-booked in the glazed Pavilion which provided uninterrupted views of the grand water cascades and the surrounding avenues of sculptured hornbeam trees Then after more activities it was back to the Linden Hall Hotel and, for some, a visit to their sap pool!
This day, Thursday 9th August was the final touring day, and what a day it turned out to be, wrote Craig.
Below: Ken and Omeira Graham are one of the first away, and Jacqui Bryan, Wendy Cooper and Jennifer Kennedy
| | |
| --- | --- |
| | |
First a visit to Cragside, the country house built in 1863 as the home for industrialist and entrepreneur Lord Armstrong (of the Armstrong Whitworth engineering empire). In 1868, a hydraulic engine was installed, with water being used to power labour-saving machines such as laundry equipment, a rotisserie and a hydraulic lift. In 1870, water from one of the estate's lakes was used to drive a Siemens Dynamo in what was probably the world's first hydroelectric power station and the house became the first in the world to have electric lighting. A series of steep pathways linked the rock gardens, formal gardens and woodlands which are set in some 4 sq km of this rocky hillside. The tour of the house was for 1pm and really had to be quite hurried if we were to keep to our schedule which was to be at High Force in the forest of Teesdale some 75 miles south. The route was across the Cheviot Hills and the Northumberland National Park and provided some exciting and challenging driving.
| | |
| --- | --- |
| | |
Above left. High Force, the highest waterfall in England. The woodland walk leads you to this spectacular sight. As you begin the descent down the gentle slope, the path twisted and turned giving a different view every twist. The muffled rumble turns to a roar and the sight astounds you. Definitely a must see, and a fitting climax to 10 days of fascinating and varied touristic visits.
Above right. Jupitourists gather at the Morritt Arms, near Barnard Castle in Teesdale A magnificent champagne reception awaited us in preparation for the farewell dinner. Suitably prepared, a most excellent dinner was enjoyed by all. Jacqui & Howard were presented with a large serving salver from the other Jupitourists in appreciation for all their hard work in organising this super event and ensuring that everyone enjoyed it throughout.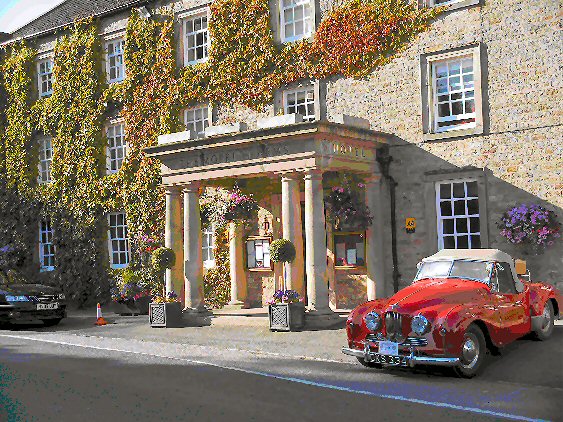 Craig Ainge sums up: Friday 10th August. We packed up for the final time of this Jupitour, bade our farewells while speculating as to when we might meet up again and where the next Jupitour might take place. A successful and memorable tour of 1064 miles, good company, 6 hotels, some of the best landscapes, a whole list of attractions and spectacular sights, all without major mishap. The Ainges had about 175 miles to cover to get home, so the distance award would have gone to Tony and Elizabeth Day with 345 miles to drive. John and Sue Powter probably had a mere 200 miles to cover in their Mead-bodied Jupiter, nevertheless all returned home OK.
So from all Jupitourists on the 2007 event - many thanks to Jacqui and Howard Bryan for a most agreeable and well-organised Jupitour, well in keeping with the tradition of the other three! So ...when will we all meet again?
For more of this interesting tour, check the diary of Craig and Glenys Ainge
---
More images of what many of us saw on the Jupitour of 2007:-
| | | |
| --- | --- | --- |
| | | |
| Cragside near Rothbury, Northumberland - summer home of Lord Armstrong | Lindesfarne - looking towards Bamburgh | The Kings Hall - Bamburgh Castle |
| | |
| --- | --- |
| | |
| Floors Castle | Alnwick Castle |