The 2005 to 2008 part of the magazine page of the definitive Jowett Jupiter website
The Jupiter Magazine section...
Follow me on Twits-here, on Handbook, and of course on Whobute


Six Goodwood revival photos from September 2008. Stirling Moss driving the Jaguar, Pete Dixon the R1
Middle right, Pete Dixon talks to the son of the late Charles Grandfield. Grandfield was Jowett's Engineering Manager and so he was the man behind the R1 project and much else at Jowett. This chance meeting must have been an exciting moment for both men. Thanks to John Blazé for the photo
J&M Classics now have their Jupiter Mk1 scale model available, based on the Edmund Nankivell Jupiter NNK 560 even with luggage rack.
A good job they have made of it too. Available from Marquart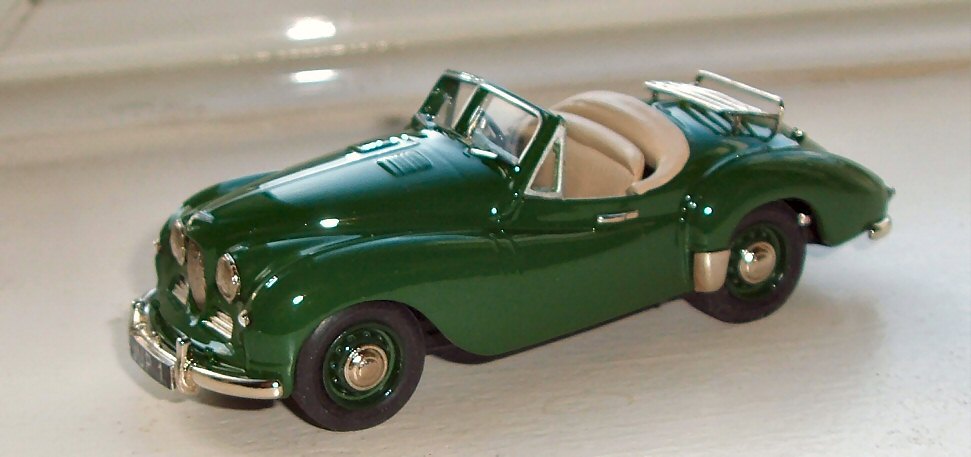 The Nankivell Jupiter out of petrol in West London 5 June 2008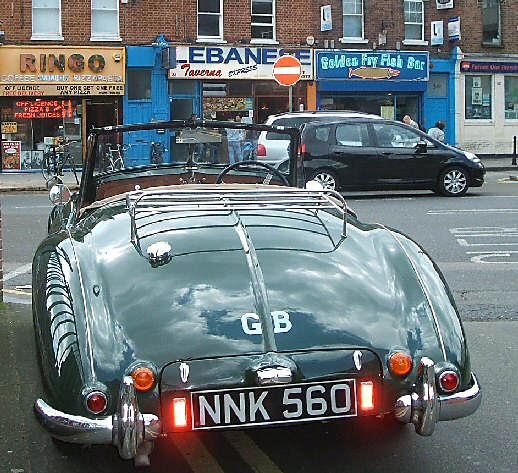 Congratulations to Jon Andersen! On Sunday June 1, his Jupiter was awarded the second-place trophy in it's class at the third annual Los Angeles Concours d Elegance,
which took place at the Pasadena Rose Bowl.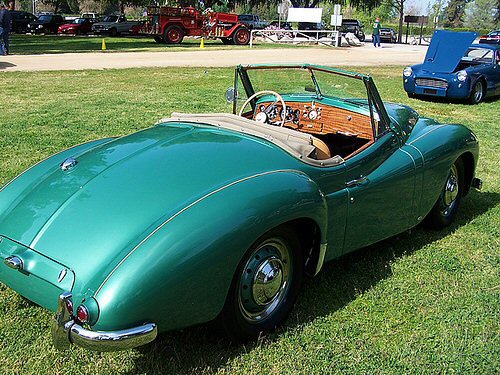 Thanks to Jupiter man John Kenna for sending this photo of Scott Renner in his Californian workshop. Regular visitors to this website will have seen several images of Scott racing his very quick Jupiter, which he chooses to call in a droll reversal Unsagacious I and run under the number 63. Those who know of the 1950 Le Mans class-winning Jupiter and its two drivers will get the drift.

Long may Scott continue to race his Jupiter, and long may he also work on Jupiters in his workshop
It is ncessary to report the sad, sad news that Tim Wise (seen below on the right, with his life-long friend Howard Bryan) has died (27 April 2008) after a long battle with cancer. All those who came on the various Jupitours will remember Tim Wise, life and soul of the party, and a fantastic man to have around. Tim's father was of course Tommy Wise who did great things for Jowett at Le Mans (one half of the Sagacious II with Tom Wisdom, Le Mans 1950 and the great Jupiter class win) and other noble deeds in his Jupiter.
We always knew that if Tim and Anne were on a Jupitour, it would go with a swing!
Tim, we are seriously missing you - Grand Fromage et Fromagette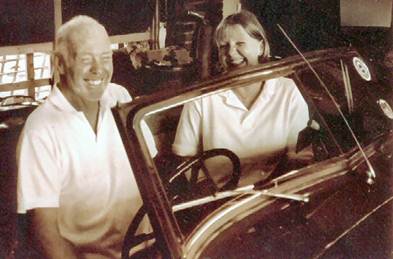 Jacqui Bryan has this to say about Tim: He battled magnificently for the seven years since his first operation and is an inspiration to us all - he never let it get in the way of doing what he wanted, as witnessed by the Jupitour 2007. It is hard to come to terms with the loss but thank goodness we all had the chance to know him. Howard is devastated to lose his lifelong friend. Tim always took great enjoyment out of life and that was wonderfully infectious. We were out there in March to celebrate our wedding anniversaries together, and despite everything he had to cope with, he managed to get around and wine and dine as usual - even managing to get out in his Jupiter with Howard
The 2008 UK Drive It Day took place on Sunday, 20 April
The Nankivell Jupiters - not just get it out of the garage day. Three out four photos taken at the Plough, Henfield
Below: the Queen's English Woodley Park All-British car meet and autojumble, Sunday 6 April 2008
Van Nuys, California
Below: Spring 2008; Andy Stevens and SC Jupiter getting a quote for some welding work.
The Edmund Nankivell red saloon Jupiter is in attendance
Below: The Jupiter of Bas and Gerda de Bruijn with newly-upholstered doors courtesy Jaak Jacobs.
The doors rattle less, apparently! Well done Jaak! (March 2008)
An ex-USA Mk1a Jupiter is under intensive restoration in France. Vic Boddy is doing the good work. photo early 2008
Frenchman Jacky Gruz is the envy of his local classic car fraternity with his well-restored Jupiter. The car has been made a light as possible and has vents at the rear of the bonnet to assist the extraction of hot air from behind the radiator. The 2007 events the car has attended include the Ronde Historique du Mont du Chat and the Ronde de Montagnole, both in the Haute Savoie region of alpine France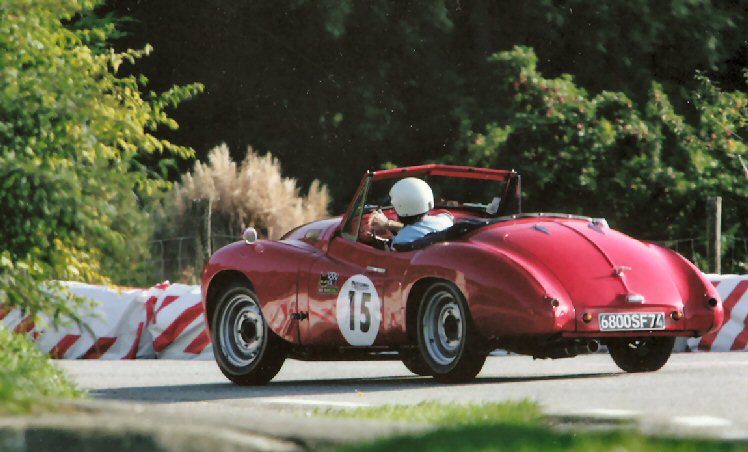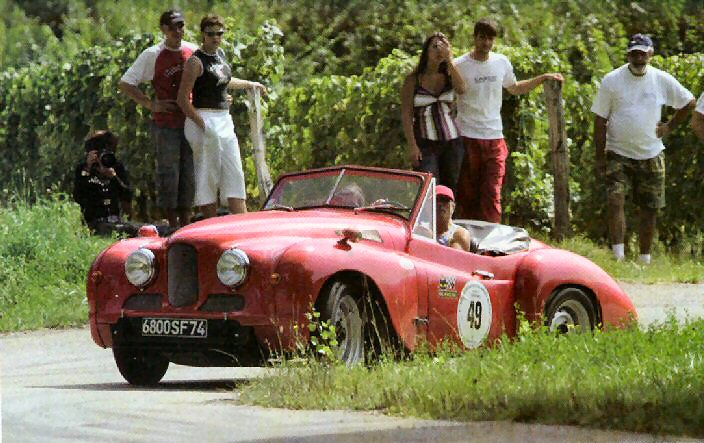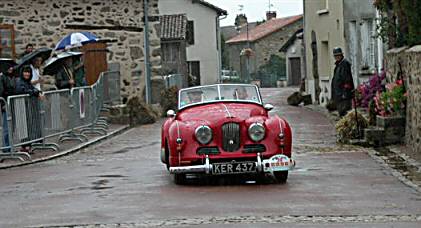 The above picture (courtesy Morgan man Brian Lee) shows Mike and Judith Chevers, who have located to France with their two Jupiters, driving through the village of Esse in the Charente in France recently. Mike and Judith entered two local rallies, in one the mayor provided a free four-course meal for all participants.
| | |
| --- | --- |
| | |
| Above: Jupiter now owned by Australian Susan | Sharrock. She drives it every week |
| | |
| Above: Jupiter seen at the Summer 2004 | at the Laughton (Sussex) Steam Fair. |
Photographs taken in 2004 below. Top left, Roy Watling-Greenwood, who in 1953 built single-handedly the special bodied Jupiter known as GAP 6 - an almost exact replica of standard. The remaining 5 photos were taken at the recent Ardingly Festival of Transport.
Centre left: Mrs Joyce Swayne, widow of the man who bought a Jupiter in 1953 when it was 6 months old. The family still have the car! See further below for pictures of the unsheeting of this car.
The standard Jupiter shown immediately below is owned by John Hodgekinson, who is also responsible for the oil cooler installation top right.
Two bottom photos show a folk-dance troupe performing a Yorkshire clog dance, and a Trinidad-style pan band.
Some news from the 2006 Australian National Jowett rally, held in Tasmania for the first time: The Brian Holmes Jupiter was voted the most desirable Jowett, Best Overall Jupiter, and Brian came second in the Driving Test. He was awarded the Overall National Jowett Meet Trophy. Mike and Sue Allfrey came second in the Observation Run in their Jupiter.
2006 is the 50th year of the Jowett Car Club of Australia and they are aiming for an unprecedented 50 Jowetts. They normally get just a few more than 20, but our resourceful Australian friends are already planning how this may be achieved in such a large country.
Two Jupiters were out in Derbyshire Sunday 20 June 2006. A Midsummer Charity Road Run. Frank and Christine Woolley (left) and Martyn and Paula King (right).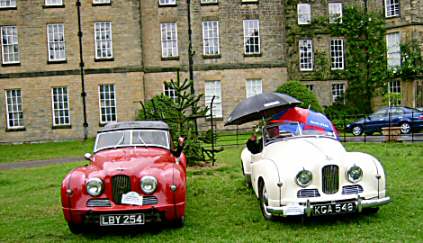 Photo taken at the end of the run (in the rain!) at Renishaw Hall - by Frank Woolley
Jupiter seen near Croydon South of London in 2004 for the first time in 40 years when it had been laid up under sheets.
Links...
These are our links to the outside world. But gluttons for yet more chit-chat about Jupiters might wish to jump to the Magazine overflow page.
Did you know that British sports cars defy the laws of physics? You didn't???
The UK Motor Sport Index is committed to being the definitive unified information source for motor sport of all forms (whatever the governing body) taking place in the United Kingdom.
This includes sport for historics.
The Jowett Car Club now has its own website.
Another Bradford website covers many other issues some connected with local government of the city, some not. Try it! And while you are at it what do you know about the Bronte Country?
Here is an online www.classicmotorauction.com Classic Car auction website. Your car can be auctioned with Classic Car Auctions whilst being secure in your possession. The need to travel miles to view a car that is often not as expected is eliminated; the company ensures that the vehicles offered are as described and have safeguards in the unlikely event that the vehicle is not as expected.
Well, there WAS a Jowett.com website, in fact there is again such a website. But there wasn't much on it last time I looked. It was devoted to an American clothing mill of the name Jowett Garment Factory based in El Monte, California. Here was one of their products being modelled: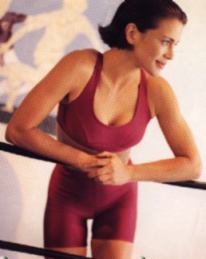 ---
||Jupiter (cars!) photos||Jupiter Specification||Buy the Jupiter Book||Buy Crowood's Javelin/Jupiter Book||
||Magazine Page||Magazine Overflow 1||Magazine overflow2||Main Index Page||Famous Jupiter Owners||
||Book List||Competition History||Production History||Jowett Genealogy||Farina Jupiters||
||Le Mans year 2000||A handbuilt car||Jowett Clubs||