Jowett Jupiter Spares and Service
(and by definition Jowett Javelin Spares and Services)
To begin, here is a page showing how useful certain ramps can be. Scroll down to the last car - it is a Jowett Jupiter, that of Nigel Woodford
All the clubs listed on the Clubs Page supply spares, and often arrange for needed parts to be manufactured. There is a world-wide interchange of spares between clubs. The Jowett Car Club has a modest levy attached to its annual subscription; this provides additional resources for the manufacture of parts. The spares group can be contacted on Monday evenings 7pm to 9pm (UK time) on +44 (0)1274-604 455. Sales to JCC members only.
In particular Jupiter owners, especially those who are in the process of restoring their Jupiters, are urged to join the Jupiter Owners Auto Club and/or the Jowett Car Club (UK) and/or their Local Club (USA - Australia - New Zealand).
The Jupiter Owners Auto Club now supplies its Jupiter spares only to Jupiters owners who are paid-up members. The Club's spares supplier is classic-car spares company Catmint. All JOAC members are supplied with contact information

For New Zealand Jowett spares, you can E-mail Bob & Robyn Smith
For Australia Jowett Spares, you can E-mail [email protected]
There are a number of small businesses operated by Jowett enthusiasts, who can supply spares and reconditioned units etc. (ALL UK-based except KMC - see below).
Disclaimer: the Jupiter website only lists those known to be active. No guarantee can be given about the standard of workmanship. You are advised not to pay any money in advance.
I have received no money from any business mentioned on any pages in this website.
Before telephoning or using a phone/fax please calculate time-zone differences!!
Here below is an original Jupiter tool-kit, even showing the metal case (separated from the Jupiter fixture behind the seat) that housed the jack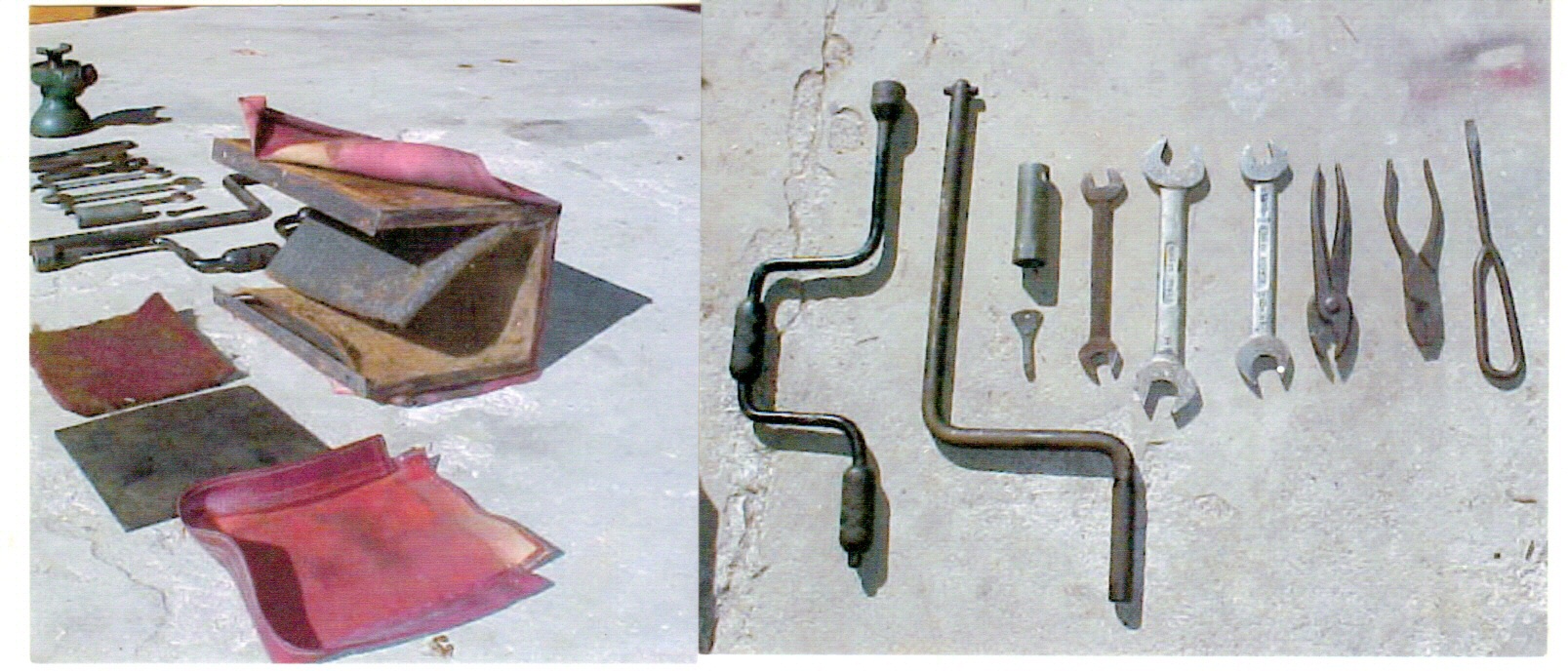 ---
The list of small businesses is in no particular order:-
An owner is happy with the engine work done by T & L Engineering of Elstow, Bedfordshire, and would recommend them to others.
"The only disadvantage was having to remove the engine myself but I did learn a lot from the experience! The work was not cheap but was considerably more extensive than I had envisaged and it is not exactly a commodity item. On the advice of the local garage after the MOT I took the car to a nearby rolling road "doctor" After some tweaking it was rewarding to see the manufacturer's bhp being recorded".
T & L Engineering, Pear Tree Farm, Wilstead Road, Elstow, Beds, MK42 9YG
Tel: 01234 352 418
Fax: 01234 352 100
Email: [email protected]
Bill Lock & Associates Ltd are now at 18 Cleaveland Road, Surbiton, Kingston, Surrey, KT6 4AH, UK.
Home Tel: +44 (0)208-390 7904 or Works Tel: +44(0)1327 831 247 or cellphone +44 (0)7768 383 213, Jowett spares can be ordered through any of these numbers. He can offer engine main bearings, Jupiter sills, and much else.
Martin Jay runs Distributor Doctor and can recondition original-type Lucas distributors to as-good-as-new standard.
A Transmission engineer who has worked on Javelin and Jupiter back axles (Salisbury 3HA) is Paul Grainger of Billingham, Stockton-on-Tees.
Paul's Home phone is 01642-532 041, and his Mobile phone is 07855 - 739 742
Speedograph Richfield based in Nottingham are highly competent when it comes to speedometer repairs and much much more.
You could try Tim on 01159-264235.
Another firm doing repairs to instruments of classic cars is JDO Instrument Repairs of 34 Spring Avenue, KEIGHLEY, West Yorkshire, BD21 4UG
Telephone : 01535 672125. ( + 44 1535 672125) E-mail [email protected]
But for car clock repairs, try Grant Hunt. His e-mail is [email protected] and he is based just North of Birmingham.
He charges £70.50 to receive, clean, send a report (1.5 pages of A4) on its state, and then he asks permission to proceed. A Jupiter man reports that it took around a fortnight for Grant to ensure the clock was running accurately, repainting where needed. He adds a diode to stop the contacts destroying themselves.
Classic Performance Ltd, Unit 7 Trent Industrial Estate, Wetmore Road, Burton Upon Trent, DE14-1QY.
They work on a wide range of Classic Cars including all mechanical work and complete restorations. They have rebuilt a Jupiter engine from various components and have also apparently reconditioned a couple Javelin engines. Perhaps you should contact one of the Jowett clubs first if you are seriously considering this company.
Telephone +44 (0)1283 531 122
Fax +44 (0)1283 531 328
E-mail [email protected]erformance.co.uk
There is a company name of Power Track Ltd who can supply Lockheed and Girling brake (and clutch) parts for cars from 1935 to 1980.
Telephone +44 (0) 1753 842680 phone/fax. Paul Hunt of Power Track Ltd is most helpful and he knows about Jowett Jupiters. All their seals (and their wheel cylinders) are new and the rubber is compatible with silicone brake fluid. Click on http://www.powertrackbrakes.co.uk/
or e-mail [email protected]. They list the Jowett Bradford, Javelin and Jupiter amongst the numerous models for which they carry spares.
For hydraulic brake overhauling including sleeving of hydraulic cylinders, try:
Past Parts, Unit 4 Chase Road, Northern Way Industrial Estate, Bury St Edmunds, Suffolk, IP32 6NT Telephone. +44 (0)1284 750729
E-mail. restore @ pastparts.co.uk (remove spaces). Website http://www.pastparts.co.uk/
The original nominal diameter of both front and rear wheel cylinders was 7/8 inches
Ashford Chroming operate a plating service for Classic & Vintage cars. Click on Ashford Chroming or call +44 (0)1233 660879 - UK & Europe
Chroming, triple-plating to show standards, brass plating vintage parts, resilvering of reflectors etc.
---
And in North America:
Kip Motor Company Inc, 2127 Crown Road, Dallas, Texas 75229 USA.
Kip Lankanau supplies many useful parts for orphan cars. He knows about Jupiters as he owns a nice example restored by himself, for a sequence of restoration photos click here. Many Jowett Jupiter parts available. He E-mails "We have shop and parts manuals, interior kits (leather or vinyl), tops, tonneaus and most anything else".
Tel: (972)243-0440
Fax: (972)243-2387
Toll-free order line (USA and Canada): 888-243-0440
E-mail: [email protected]
Scott Renner For second-hand spares in the USA: Contact Scott Renner <[email protected]>
For such a rare car, not bad, eh?
---
Another type of supplier is the more general one, whose stock includes some parts used on Jupiters.
I have only used some of the companies concerned. They have not paid me to place this information before you - indeed they are almost certainly blissfully unaware that I have!
---
A supplier of electrical equipment is Holden Vintage & Classic Ltd. This company has a useful illustrated online catalogue from which you can buy.
---
The very useful Complete Automobilist has been taken over by the equally useful Paul Beck Vintage Supplies. Here are the relevant contact details:-
Complete Automobilist
Crosswinds
Happisburgh
Norwich
Norfolk
NR12 ORX
England
Telephone: +44(0)1692 650084
Facsimile: +44(0)1692 651451

http://www.completeautomobilist.co.uk/

Vintage Supplies Ltd.
Crosswinds
Happisburgh
Norwich
Norfolk
NR12 ORX
England
Telephone: +44 (0)1692 650455
Facsimile: +44 (0)1692 651451

http://www.vintagecarparts.co.uk/
---
Some Jupiter owners are resisting the temptation to spray-paint their beloved cars with twinpack and are sticking with tradition and using Coachpainting which is a very old method of applying paint to a surface using a brush.
Here is a website devoted to coachpainting and coachpaint and all you need to know to apply it successfully. If you access it you can follow a link to a blue Jowett Jupiter with black wings, presented as an example of the finish obtainable with Tekaloid Coach Enamel.
Very kindly Stephen Hull has volunteered to field paint-related queries - alas he has no paint formulae for colours earlier than 1962.
---
---
||Jupiter (cars!) photos||Jupiter Specification||Buy the Jupiter Book||Buy Crowood's Javelin/Jupiter Book||
||Magazine Page||Magazine Overflow||Main Index Page||Famous Jupiter Owners||
||Book List||Competition History||Production History||Jowett Genealogy||The Farina Jupiters||
||Jupiter spares and Services||A handbuilt car||Jowett Clubs||Le Mans Jupitour 2000||Blois Jupitour 2003||Jupitour 2006||Jupitour 2007||
||Interesting Jupiter links||Quirky Jupiter photos||A Jupiter travels to HyŤres||
||Guest Book||